One of the SPACs to hit the market was Kensington Capital (NYSE:KCAC) becoming the blank-check company to merge with QuantumScape. The story behind QuantumScape is the quest for a better battery for electric vehicles (EVs). And that is making Kensington Capital stock attractive.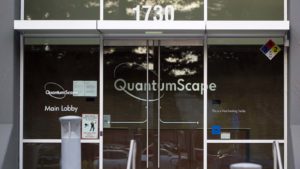 In a year punctuated by disruptions, reverse mergers have become uncommonly normal.
Whenever I write about a subject like EVs and charging stations, I have to remind myself of where I live. Suffice it to say, you don't see a lot of EVs tooling around our small town. But that is changing.
I've noticed quite a few Teslas in recent month. And lo and behold we even have a Tesla charging station with room for four of the popular EVs to charge at one time.
So while the EV infrastructure may be more developed than I realize, I can still believe that it could be years before QuantumScape has a product ready for market.
Simply put, the oncoming EV revolution has a battery problem. Companies like Tesla (NASDAQ:TSLA) are working on improving the existing lithium-ion battery, and it also is creating a solid-state battery of its own (albeit one that essentially ignores the QuantumScape design completely).
Other companies like Nio (NYSE:NIO) are coming at the battery problem from a different way altogether with its battery-as-a-service initiative.
But the simple fact is that lithium-ion batteries are the Achilles heel of the EV revolution. And that heel will only get more exposed as demand for electric vehicles increases. In the first place, consumers are already paying a premium to buy an electric vehicle. One reason for this is the battery.
Which brings up the second problem. Once the battery outlives its useful lifespan consumers either have to replace the battery (which can be expensive at today's prices) or replace the vehicle.
There's also the problem of our aging power grid which will only get more strained as millions of Americans are trying to recharge their vehicles.
So a battery that requires less charging and has the potential to last for a solid decade would be a game changer.
China has become a major geopolitical topic of debate. And one of the reasons is because the United States is now fully engaged in a race to lead the world in EV technology. Being the first to market with a solid-state battery would go a long way towards that aim.
A knee-jerk reaction would be that a Biden administration will be favorable to a company like Kensington Capital. Broadly I would say that is true. But I'm not so sure if that makes a case for KCAC stock in the next year or two.
In the first place, the technology is not ready. By the company's own admission it will be 2025 before it will be commercially available. That leaves a lot of room for competition to increase.
I use "increase" intentionally because QuantumScape already has competition from companies like Toyota (NYSE:TM), BMW (OTCMKTS:BMWYY), and Hyundai (OTCMKTS:HYMTF) who are forming their own partnerships.
It also means that lithium-ion battery technology will continue to improve. If, as Joe Biden has stated, the goal is to transition away from fossil fuels, one way to do it will be to promote rapid acceptance of electric vehicles. And that means using the technology that is currently available (i.e. lithium-ion batteries).
Kensington Capital is not a bet on the future of electric vehicles. It's a bet on a better future for electric vehicles. It's also the furthest thing from a sure thing. Yes, the technology may be a game changer, particularly if QuantumScape can manage to be first to market.
But the field is crowded and the technology will have to clear numerous technical hurdles. At this point, Kensington Capital is a speculative buy. But with a good four years before the company is expected to bring a battery to market, it's certainly not one you can put on autopilot.
On the date of publication Chris Markoch did not have (either directly or indirectly) any positions in the securities mentioned in this article.
Chris Markoch is a freelance financial copywriter who has been covering the market for over six years. He has been writing for Investor Place since 2019.
Source: investorplace.com
Author: By
Chris Markoch
Reggora Welcomes Paul Deeley and Emma Brudner to Scale Financial and People Operations
BOSTON, Nov. 20, 2020 /PRNewswire/ — Reggora, an appraisal software company that is modernizing residential real estate valuation, announces the addition of two new members to its extended leadership team. The latest hirings are part of a larger effort to scale up to meet the growing demand for Reggora's appraisal technology solutions.
Paul Deeley recently joined as Chief Financial Officer, overseeing all financial, legal, operational, and human resource functions for the team. Emma Brudner will join on November 23rd as Head of People Strategy to scale people operations and culture.
"The addition of both Paul and Emma could not come at a better time for Reggora," said CEO Brian Zitin. "Paul's expertise in not only finance, but also corporate operations and leadership will be vital as we continue to grow even faster in 2021. Emma's experience in people strategy and development will help us create optimal growth and work experiences for our people—our most important asset."
An experienced financial executive and CPA, Deeley brings twenty-five years of extensive finance, administration, and operational experience in technology and services industries to Reggora. He joins Reggora from Validity, a leader in data quality software, where he was Chief Financial Officer and helped the business rapidly scale to support significant growth. Previously, Deeley also served in leadership roles at Bullhorn, Constant Contact, Nokia, and Hill Holiday.
"I am excited to join Reggora as CFO to help the company continue to grow and execute on its strategic plan," said Deeley. "Reggora has a talented team and tremendous potential. I look forward to putting my background and skills to work to help the company scale and realize its goals."
Making a name for herself at several successful Boston startups, including HubSpot, Lola.com, and Klaviyo, Brudner brings extensive experience in both people operations and marketing to Reggora. Brudner's focus will be on fostering Reggora's people and culture as the company continues to grow and welcome new talent.
"Company culture is more important than ever before," said Brudner. "I'm thrilled to join the passionate and fast-growing team at Reggora and look forward to building a fulfilling, inclusive, and innovative culture together."
Reggora received their Series A funding in January, bringing their total amount raised, to date, to over $15 million. With the addition of Deeley and Brudner, the company now has more than 70 employees and is continuing to hire in all departments. See career opportunities here.
About Reggora
Reggora is driving appraisal innovation with a modern, two-sided platform for mortgage lenders and appraisal vendors. Through advanced and customizable workflows, Reggora streamlines the entire appraisal process for everyone involved, while improving the overall buyer experience. Lenders and appraisers benefit from payment processing, algorithmic appraisal ordering, automatic rule-based reviews, appraisal delivery, status updates, and more, creating unprecedented operational efficiency.
Media Contacts
Lindsey Flynn
339.222.1434
[email protected]
Alyson Austin
949.403.0484
[email protected]
SOURCE Reggora
https://www.reggora.com/
Source: www.prnewswire.com
Author: Reggora
Alberta Investment Management Corp. and CEO part ways – Edmonton News
The head of Alberta's $119-billion government-owned investment fund manager is leaving his post a few months earlier than planned after his track record came under fire earlier this year.
CEO Kevin Uebelein is parting ways with the Alberta Investment Management Corp. (AIMCo). After more than six years with the investment manager. Uebelin will leave on June 30, 2021.
"This decision is Kevin's," AIMCo communications director Dénes Németh told Global News in an email.
"His natural term-ending date is in the not-too-distant future, and accordingly he believes that the board should begin the search for his successor now."
AIMCo invests for 31 clients, including Alberta's public pensions and endowment and government funds in Alberta — such as the Alberta heritage fund, a rainy-day account financed by oil and gas royalties.
Story continues below advertisement
It is intended to be run at arms-length from the government.
Németh said Uebelein has the "full support of the board and management" as he continues to lead AIMCo until June.
The new CEO has not yet been named.
The board created a recruitment committee and the search for a new CEO is starting immediately, Németh said, with a goal of having one in place no later than June 30.
Trending Stories
"AIMCo's assets under management grew from $84 billion when Kevin started at AIMCo in 2015 to $119 billion at the end of 2019," Németh said.
2:34 Kenney responds to reported $4B loss from AIMCo
Story continues below advertisement
Earlier this spring, AIMCo faced scrutiny following an analysis of investments in smaller energy companies at a time when the sector is struggling.
The left-wing think tank Progress Alberta found that AIMCo invested $1.1 billion from public service pensions in junior and intermediate oil and gas firms since 2016.
Most of those companies lost value well before the COVID-19 crisis, and the oil supply war that has driven the commodity's price to record lows. At least one company has gone bankrupt despite the injection of tens of millions of pension dollars.
"The vast majority of them were in really rough shape before the crisis," said Duncan Kinney, one of the authors of the report.
— With files from Bob Weber, The Canadian Press
© 2020 Global News, a division of Corus Entertainment Inc.
View original article here Source
Source: edmontonnews.org
Author: Eddy