Pub
Sometimes presented as an attempt to change the engine of a racing car, the future shift of Ethereum (ETH) from Proof of Work (PoW) architecture to Proof of Stake (PoS) said to be more virtuous, is causing the entire crypto industry to hold its breath.
At stake, nothing less than the sustainability on a market with a total capitalization of 52 billion dollars but above all the maintenance of foundations that support a large part of the ecosystem, well beyond the simple crypto-monetary value of the 'ETH.
The imminent start of the Ethereum mutation is thus being scrutinized by the entire industry as the maneuver promises to be historic from every point of view. Investors are not left out and many are looking to anticipate the future turn, so as not to miss an operation that could prove to be very lucrative, and this despite the many challenges that will dot the road to Ethereum 2.0.
Today we recall the conditions and challenges of the operation. In addition, this is the perfect opportunity to find out how to best prepare yourself today in order to take advantage of the unprecedented investment and return mechanisms offered by the future Ethereum 2.0.
Warning : This sponsored article is offered to you in partnership with the company Feel Mining. Crypto investments are risky by nature, do your own research and invest only within the limits of your financial capacity. This article does not constitute an investment invitation.
And to be profitable even faster, take advantage of 5% on all Feel Mining services (including machines!) With the code TCT (Excluding exceptional and staking offers).
It is easy to agree, in 5 years, Ethereum has been able to meet a growing number of challenges, accompanying and promoting the growth of a significant part of the crypto continent and also inspiring a large number of new initiatives. It didn't take long for some of them to be presented as "Ethereum-Killer " because described as as efficient as the big brother, while being devoid of some of its original organic limitations.
Indeed, it will be recalled that even if Ethereum wished to push the potentials outlined by Bitcoin further, its blockchain infrastructure was largely inspired by the creation of Satoshi Nakamoto. We will obviously think of his so-called "Proof of Work " (proof of work), the keystone of securing its decentralized network.
Very energy consuming, slow, even qualified as "overwhelmed", The PoW model could represent today the ball able to send Ethereum by the fund, torpedoed by the ever increasing needs of new crypto practices. All this, without even mentioning the explosion in transaction costs caused by an ever-widening gap between the needs of the industry in terms of volume and speed and capacities – limited by nature – an infrastructure fundamentally designed in 2010 in a stammering context and light years away from current expectations and needs.
The so-called "Proof of Work"(Proof of work) is intrinsically associated with Bitcoin, and goes so far as to characterize how it works. It will be recalled that in a PoW mechanism, the security and the resilience of the blockchain are guaranteed by the energy and computing power made available to the network by the "miners", the latter being encouraged to maintain the system in return for rewards in cryptocurrency (block rewards and transaction fees).
As we have seen, Ethereum was inspired by the PoW to forge its own value proposition, like many other crypto currencies moreover (all Bitcoin forks including Bitcoin Cash (BCH) or Bitcoin Satoshi Vision (BSV)). However, if the PoW protocol drives several heavyweights in the sector, its great qualities as well as its most annoying flaws are well known.
PoW qualities:
Security and resilience important from an infrastructural point of view
Open and democratic protocol (limited entry barrier, anyone can enter and leave the network without significant constraints)
Transparency and auditability
Distribution and decentralization (from a certain critical mass)
Financially enough incentive for minors
PoW faults
very energy consuming
ecologically complex to justify (although the most recent studies show that most of the energy that allows Bitcoin to operate is from renewable sources, far from the image of "ecological monster" that we like to attribute to it)
Slow regarding transaction validation (4 / secs for Bitcoin, 15 for Ethereum).
Complex to secure below a certain size (51% increased risk of attack)
In total break with the Proof of Work, the Proof of Stake (or Proof of Stake, and its many derivatives) is an approach most often favored by new emerging blockchain models. For a riot of computing power and work, it thus substitutes an approach by a form of proof of possession: the holders of a crypto-asset agree to participate in the operation and security of the network by locking a certain amount of assets, in the form of a bail (or collateral).
On paper, the effects of this approach are virtuous. In addition to allowing a colossal speed and number of simultaneous transactions (several tens or even hundreds of thousands of operations per second depending on the project), the PoS is energy efficient and a large flexibility. On the other hand, the need to invest and deploy sophisticated mining equipment, it replaces the obligation to have potentially large funds in assets to participate in the smooth running of the infrastructure, this constituting a form of barrier to the entry, impassable for many.
Pub
In game, the possibility of obtaining rewards (or dividends) in return for securing the network, an incentive system which tends to spread and is the bright spot for investors in "Masternodes", These essential cogs of the PoS blockchain.
Among the major competitors in this strategic field, we can cite Tezos (XTZ), EOS or Cardano (ADA) and Avalanche (AVAX) all strong competitors of Ethereum.
Touching a cog in Ethereum means interacting very directly with an ecosystem that extends well beyond its simple native blockchain to impact thousands of ERC-20 tokens (the standard for Ethereum tokens), but also complex ecosystems that are intrinsically linked to the good functioning of the main network.
For this reason, the transition to Ethereum 2.0 will be done in cautious stages, according to a very carefully considered timetable. Thus, in a few days will begin "phase 0", called Beacon Chain. This decisive step is supposed to allow the start of a purely PoS version of Ethereum, via the generation of a block "Genesis", The first link in the new chain.
To allow this firing, however, Beacon Chain is supposed to wait until it has been joined by a total of 16,384 validators, who will each accept to lock 32 ETH (a little over 12,000 euros at the current price). To set an example, Ethereum creator Vitalik Buterin himself has delegated 3,200 ETH to the network. The minimum threshold is supposed to be reached before December 1st. Otherwise, Beacon Chain will start one week after the minimum thresholds have been reached.
The real phase 1 is baptized Shard chains. It is supposed to be deployed during 2021. This phase concerns the deployment of multiple parallel chains, making the Ethereum blockchain more scalable. At the end of this phase, the Ethereum network is expected to support up to 100,000 transactions per second.
Phase 2 will be called EWASM and will replace the current Ethereum virtual machine (the very one that allows the execution of smart contracts) with a more powerful one that allows even greater scalability and acceptance of new programming languages.
It should be remembered that until the finalization of the EWASM phase, the current version of Ethereum will continue to operate normally. Furthermore, ETH holders do not a priori have to worry about losing their assets, as the transition is supposed to be transparent for users. Finally, the most reasonable projections leave foresee a transition of more than 2 years before this Ethereum mutation, enough time for the ecosystem to adapt, especially for current Ethereum miners.
Either way, the emergence of Ethereum staking is now just a matter of time, a short time since the deposit of the collateral necessary for staking (32 ETH therefore), as we have seen, has been open for a few weeks. You can also follow the progress of this race for Ether on the dedicated smart contract (as of November 19, the number of ETH deposited is close to 105,000, or about 20% of the target).
With all of these elements in mind, it is perfectly possible that you will be seized with the irrepressible desire to join the adventure. Either it seems essential to you to go down in history and experience a thrill (a little) similar to that of the first Bitcoin miners in 2009-2010 or more prosaically you are interested in the process as an investor.
However, the operation can easily turn out to be complex or intimidating for the individual.
Indeed, in addition to the substantial amount of Ethereum to be locked in the smart contract, it should be noted that the funds deposited in the contract will be immobilized until the full deployment of Ethereum 2.0, in other words, for at least 2 years, this "at less "to be perfectly understood in all its uncertainties.
Moreover, even if the team is as credible as it can be in the industry, it will be recalled that a large part of the crypto ecosystem is sailing in full sight. terra incognita (which is a big part of its charm!). In short, this is a good time to remember that large gains necessarily come with risk taking.
In this context, it is therefore never useless to bring community and cooperation into play, as well as knowing how to surround yourself with solid partners. The perfect transition to talk about Feel Mining, which has obviously been active behind the scenes for a while now to be able to offer Ethereum staking to its community as soon as it is released. It's hard to know if Vitalik is really ready, which is certain is that Chloe and her team are already in the starting blocks!
As often, it is Chloe, the dynamic CEO of the Grenoble-based company specializing in Bitcoin mining and masternodes, which is at the forefront of offering this service as soon as possible, which many people expect:
"The release of Ethereum 2.0 – and its staking! – is a strong event in the crypto ecosystem, both by its symbolism but also because it helps to strengthen the emergence of new models of investments and financial investments. By the way, the entire ecosystem of PoS projects could be boosted. Our offerings at Feel Mining keep getting richer, but it was impossible not to be particularly mobilized on the very next kickoff of this mutation of Ethereum.
In my opinion, it is essential to fully understand the historicity of the moment: in 10 years, we will pass for pioneers and will be envied for having experienced such events!
There are still a lot of unknowns regarding the dates, timing and even the level and mechanics of the rewards. However, the team is working hard to be able to immediately offer the community the opportunity to quickly position themselves on Ethereum staking. And as always, we will ensure that the barriers to entry are as low as possible and the investment environment as secure and ergonomic as possible. Furthermore, it is essential for us to be perfectly transparent about the unknowns and the risks involved in such operations.
Big news is coming on the subject, stay tuned! "
You got it, if you want to be among the first to take advantage of Ethereum 2.0 staking, it's time to create an account on the Feel Mining platform!
Nice to meet you, I'm Hellmouth! Editor-in-chief of Cryptocurrencies, the crypto medium that you do me the honor to survey right now (well done, you have good taste).
Crypto-enthusiast of the second hour, nothing is more important to me than to support the global adoption and democratization of the treasures offered to us by blockchain.
I write articles between cocktails in Tahiti, my adopted island, and don't mind, if the opportunity arises, to feast on a plump scam or a little too enterprising Ponzi scheme.
Did you not like the article? Do you want to give me your opinion on a subject, or offer me one? You can come and bawl like a skunk or pour yourself out on my LinkedIn profile, on Facebook, or even Bitcointalk
Pub
Source: personal-financial.com
Survey of millionaires finds 73% own or want to invest in crypto
A survey of more than 700 high net worth individuals, or HNWs, has found that almost three-quarters of millionaire respondents either already own or are looking to invest in cryptocurrencies before the end of 2022.
Conducted by financial advisory organization deVere Group, the survey revealed that 73% of respondents are bullish towards cryptocurrencies, an increase from 68% in 2019.
Participants were individuals who had more £1 million, which equates to approximately $1.32 million USD. They were selected from a wide variety of regions including the U.S., the U.K., Asia, Africa, the Middle East, Australia, and Latin America.
DeVere Group CEO and founder Nigel Green, noted in the survey that Bitcoin had once again been one of the best-performing asset this year with a year-to-date increase of 125%, adding:
"As the survey shows, this impressive performance is drawing the attention of wealthy investors who increasingly understand that digital currencies are the future of money and they don't want to be left in the past."
Green noted the respondents eyeing Bitcoin include some of the biggest Wall Street banks, and attributed their warming sentiment to the adoption by large firms like PayPal and Square:
"No doubt that many of these HNWs who were polled have seen that a major driver of the price surge is the growing interest being expressed by institutional investors who are capitalising on the high returns that the digital asset class is currently offering."
Even former Bitcoin skeptics on Wall Street are warming to digital currencies. During a recent New York Times conference, JPMorgan Chase's Chairman and CEO Jamie Dimon said he's a "believer" in blockchain technology and "properly backed, properly regulated" cryptocurrencies.
Dimon made headlines in 2017 when he referred to Bitcoin as a fraud although JPMorgan has since embraced digital assets.
Billionaire hedge fund manager Ray Dalio still has plenty of doubts about Bitcoin, but questioned his own skepticism on Tuesday, tweeting:
"I might be missing something about Bitcoin so I'd love to be corrected,"
Dalio had suggested Bitcoin falls down as a store of value and that governments may "outlaw it and make it too dangerous to use." He also said that he can't imagine central banks, multinational companies, and big institutional investors using it.
The survey of millionairesws was revealed the same day Bitcoin's total market cap hit a new all-time-high of $336 billion and as its price rallied to above $18,000, just shy of the $19,763 high reached in December 2017.
Source: bitcoinslate.com
Author: admin
Cryptocurrency's future: What compliance needs to know | Article
When such esteemed (and profitable) investors have contrasting views about cryptocurrency, it is hard for the rest of us to say if its influence is positive or negative. However, one thing is certain: It is here to stay.
Cryptocurrency is no longer the plaything of criminals or confined to dark corners of the Web. These views are outdated excuses to avoid confronting it. While no one can claim to be an expert, it's still an area we must try to understand. We shouldn't judge ourselves too harshly, as it is a complicated topic, but by accepting it and trying to come to grips with what it is—and how it works—we will be better placed to avoid regulatory censure and benefit from it.
This article will illustrate some of the challenges, even mysteries, of cryptocurrency and highlight the importance of everyone in compliance staying on top of it all. We'll look at what regulators are trying to do, and we will also give you a tip on where to go to study this complex topic further.
As the saying goes, you can't run before you can walk, so in this situation you need to understand the technology before comprehending how it is used. Cryptocurrency, blockchain, distributed ledger technology (DLT)—these are all terms becoming more common as they gain higher levels of adoption. It can be great for compliance (for example, DLT can be used to bring more transparency to business transactions and speed up global commerce), but it also has the potential to be an asset for criminals (the anonymity provided through blockchain can create a haven for bad actors to operate within).
"The fast-evolving blockchain and distributed ledger technologies have the potential to radically change the financial landscape. But, their speed, global reach and above all – anonymity – also attract those who want to escape authorities' scrutiny."
Source: Financial Action Task Force
What about for the regulator? This is not as clear cut, as they sit in the middle. Too much regulation stifles growth and adoption at a time when the world is crying out for developments and improvements to how business is done, but too slack an approach allows criminals to run riot and exploit holes in regulation.
The problem for compliance professionals, then, is how to treat this burgeoning technology when we begin to encounter it? It's really complicated, but that's OK—we're all discovering and trying to understand it together. As with all risks, there are threats and there are opportunities. Clearly, we must follow regulatory guidance, but what happens when that evolves or is updated? Equally, what happens when new technology emerges so quickly that regulation can't keep up? There are so many new products and novel ways of moving value globally that criminals are poised to exploit that regulators have a mighty challenge on their hands to stay abreast. So, let's take a breath and see how regulators and authorities are attempting to do exactly that.
Bitcoin exploded onto the scene in 2009, immediately catching the attention of the Financial Action Task Force (FATF). The most recent additional guidance was added to their recommendations in 2019. As part of that addition, a 12-month review was planned for June 2020, and a survey of its membership and its broader global network was carried out in March 2020. Thirty-eight FATF members (37 jurisdictions and 1 regional organization) and 16 FATF-style regional body member jurisdictions responded.
Quite often when a new regulation is issued, or guidance is given on a specific topic, there is the temptation to feel its contents are sufficient to cover the need and the issue resolved. However, it is rarely that simple. Regulations are complicated, and the guidance that follows can take multiple iterations to get right. This is especially true in such fast-paced areas as new technology, virtual assets, and cryptocurrency.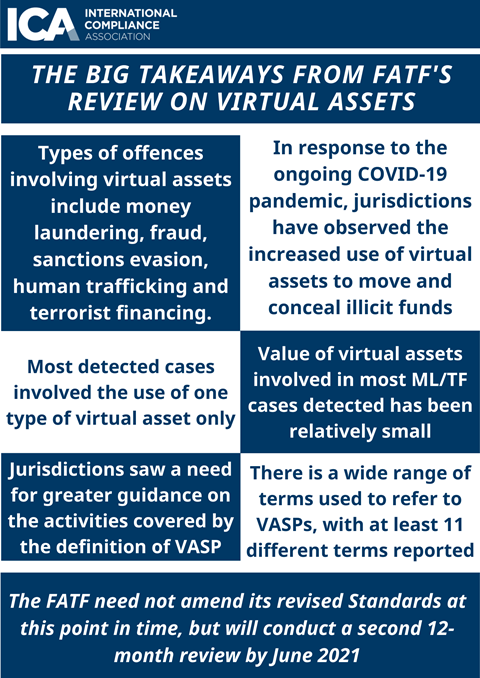 While the recommendations are being implemented, there is still a long way to go to total adoption and full regulation. The FATF is aiming to bring consistency through its virtual asset service provider frameworks, its recommendations, and its review.
In addition to the recommendations from the FATF, other jurisdictions are coming to terms with how to regulate cryptocurrency. The European Union has found it is hard to set clear and strict rules given the opaque nature of the Internet (anonymity provided by IP addresses, data being moved quickly, locations disguised via a virtual network, etc.). It is proving near impossible to apply sanctions in the world of cyber in the same way as against arms dealers or nuclear proliferation activities.
Nevertheless, the European Union in November 2020 imposed its first cyber-sanctions regime targeting Russian, North Korean, and Chinese actors deemed responsible for cyber-attacks against EU member states. Similarly, the United States has also pursued sanctions and indictments against Russian, North Korean, and Chinese actors. However, attributing blame and guilt in the cyber-sphere often lacks what would otherwise be deemed essential evidence, either because governments don't have access to incontrovertible proof or because they are unwilling to provide it.
Further, given IP addresses can be altered or hidden, the location of a perpetrator's address constitutes neither adequate nor necessarily correct evidence of their true location. The easily blurred and untraceable nature of cyber-space will therefore make identifying the complete networks of individuals difficult. Cyber-sanctions may consequently not result in significant asset freezes or have much impact on the financial networks supporting illicit cyber-actors. Thus, it's unsurprising that it's taking some time for authorities to come to grips with it all.
The United States has yet to formulate a consistent legal approach to cryptocurrencies, with laws varying from state to state. Federal authorities even differ in their definition of the term: The Financial Crimes Enforcement Network (FinCEN) doesn't yet consider cryptocurrencies legal tender; in contrast, the Internal Revenue Service (IRS) regards cryptocurrencies as property. Different terms being used for the same thing is just another example of how complicated this area is.
The situation in China is different. Cryptocurrency was initially handled very cautiously there but more recently has received some backing. In 2017, the People's Bank of China banned initial coin offerings and cryptocurrency exchanges and attempted to root out the industry by making token sales illegal. The biggest exchanges thus ceased trading. This all changed in 2019 when a Chinese court ruled Bitcoin was digital property. Since then there has been a shift in cryptocurrency adoption, with Chinese President Xi Jinping calling for an increase in development efforts on blockchain. There is still some caution, but China is certainly a country with development on its mind.
Why is this all important to you? Well, the adoption of virtual assets, blockchain, and cryptocurrency is rapidly increasing—a recent report by Chainanalysis found that of the 154 countries analyzed, 92 percent had some sort of cryptocurrency activity. The way we work, bank, and live in years to come could well look very different to now, with some of these technologies being used to underpin our basic activities.
In a work environment, and focusing on compliance, it is going to be vital to not just monitor these changes but to take action to ensure you and your business remain compliant. A company that fails to evolve will lag behind, and the same applies to compliance professionals—if you don't keep yourself up to date, you too will be out of the loop. Educate yourself about the technology; demystify it. If you're able to understand it and know what you're dealing with, this will help you to manage risks and leverage value. Remember that it works both ways. If you're a FinTech, understand how the technology is exposed to risk through its features and usability and find ways to control it.
There is a plethora of information available on virtual assets, crypto, blockchain, and so on, but to stay on top of it all is almost a full-time job. As mentioned at the start, no one is an expert in this area yet, so all we can do is educate ourselves as best we can and then share that knowledge.
Cryptocurrency is confusing—there is little point in pretending otherwise. But through education and sharing knowledge, we are all better able to understand it and adapt to its adoption and continued use. It's here to stay, so we may as well get on board and enjoy the ride.
The International Compliance Association is a sister company to Compliance Week. Both organizations are under the umbrella of Wilmington plc.
Source: otcpm24.com
Author: News Bureau