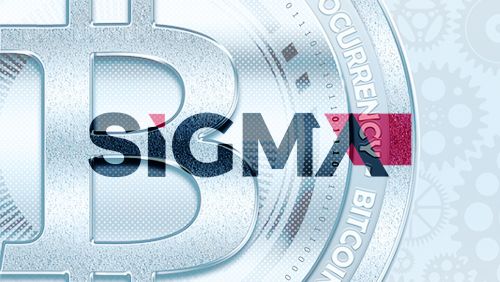 Thanks to a number of media sites who didn't understand the true purpose of cryptocurrencies, or the problems it could solve, digital currencies got off to a bad start in mainstream awareness. It has taken a long time for the negative stigmas to begin to be chipped away, but there has definitely been a lot of progress in the past couple of years. At this week's SiGMA-ICE Asia digital conference, crypto and blockchain innovation made an appearance, delving into how the technology is particularly beneficial to the iGaming space. Thanks to the coronavirus pandemic, interest in crypto as a legitimate form of payment has now reached an entirely new level across the globe.
Max Krupyshev, the CEO of cryptoprocessing.com, and Hong Kong Blockchain Association co-founder and co-chairman Tony Tong provided substantial insight into how crypto is making its way to iGaming payment channels. Digital currencies have the ability to provide payment solutions that are unparalleled by any conventional alternative, allowing for both gamers and gaming platforms to resolve purchases and payouts easier and cheaper than ever. This has become even more important as iGaming operators establish their activity throughout multiple jurisdictions, allowing the global reach of crypto to help ease entry into new territories.
Krupyshev has witnessed a strong push toward crypto as a payment solution in the iGaming space. Over the past couple of years, he has seen more interest from operators and crypto now accounts for a quarter of all payments. The percentage could be higher, but people are still trying to understand how digital currencies work, what their advantages are and, of course, overcoming the negative stigma.
To help combat the latter, cryptoprocessing.com, and other similar payment platforms, are operating very similarly to conventional payment platforms. To adhere to existing money-laundering prevention regulations, crypto accounts have to be verified and the source of the crypto address is confirmed to ensure the legitimacy of the funds. This is a process that is constantly being administered for both existing and new accounts, helping to ensure that any transactions that go through the platform are on the right side of the law.
Digital currencies continue to receive more acknowledgement from both consumers and governments, as has been substantiated by the introduction of several state-backed digital currency initiatives around the world. Tong predicts that crypto will continue to receive more support, especially in Asian countries, and will be on the same level as fiat before too much longer. China has been at the forefront of the transition to digital currencies, driven by the shift from a cash-based to a cashless society in the country. According to Tong, "Even beggars scan QR codes" instead of accepting cash.
Across Asia, especially as the coronavirus has hit the land-based casino industry hard, more gaming operators are exploring online alternatives. Macau still prohibits iGaming, so some operators are moving to other regions where the activity is allowed. Along with this transition, it is becoming more important than ever to transact in crypto, and Tong expects greater integration going forward. Many Asian countries have already implemented responsible legislation and regulations to oversee the crypto industry, allowing the iGaming operators to confidently establish their activities in these countries and embrace the digital currency ecosystem to facilitate an easier launch.
Source: calvinayre.com
This crypto forensic firm will now trace Zcash transactions, notes Dash privacy is akin to Bitcoin
Ever since crypto-crimes and criminals using Bitcoin and other cryptocurrencies to launder money became a thing, the field of crypto-forensics has come up as an unlikely "evil good."
The field has, somewhat, proven most cryptocurrencies are not fully private as previously imagined. A user's transactional behavior can be mapped and worked backward to provide personal identities of the owners of suspicious crypto wallets or transactions.
Chainalysis has emerged as the top contender in the crypto-forensics space, with their solutions targeted at governments, crypto institutions, and private agencies for insights into cryptocurrency transactions and to develop anti-money laundering mechanisms.
Now, the firm is moving ahead to track Dash and Zcash transactions — two of the largest privacy protocols that made use of various security features. Zcash uses the innovative zk-Snarks framework in its protocol to mask transactions and protect identities.
Announcement: Chainalysis now supports Dash and Zcash! You can read up on the details in our latest blog. https://t.co/PYFKUw3C7Q pic.twitter.com/tNqUO8P5JB
— Chainalysis (@chainalysis) June 8, 2020
A blog post on the subject noted users do not implement the privacy features available on both Dash and Zcash, with Chainalysis even calling the privacy on Dash a "misnomer" and no better than currently-used "mixing" services like CoinJoin.
For Dash, Chainalysis noted the protocol sends all requested transactions into a bigger "pool," making it difficult to connect input addresses with the output. However, this occurs only when a user selects the "PrivateSend" feature — which is technically similar to any other cryptocurrency using CoinJoin — with all "normal" Dash transactions being unmixed by default.
Only 9 percent of all Dash transactions use the PrivateSend feature. Chainalysis adds:
"(This) is larger than the share of Bitcoin transactions that use CoinJoin or mixing techniques, but is still a relatively small and declining percentage of Dash transactions."
Users don't have to use the output of these mixing transactions to perform a PrivateSend transaction. Instead, they can opt to use them with non-mixed funds. The percentage of Dash transactions that constitute actual transfers of funds using PrivateSend is less than 0.7 percent.
Addressing any potential "FUD" stemming from the Chainalysis report, Dash Core Group CEO Ryan Taylor noted user privacy is still intact if PrivateSend is used. He tweeted in the regard:
No, it's not. Use PrivateSend. We've had AML providers since 2016. Exchanges need those services to appropriately assess compliance risks, so the addition of Chainalysis actually helps add more exchanges (some only use Chainalysis).
— Ryan Taylor (@RTaylor05) June 8, 2020
Chainalysis said only 14 percent of all transactions used one of Zcash's two shielded pools "in some way." However, only 6 percent of those were completely shielded, meaning all input and output data is encrypted.
The metric represented only 0.9 percent of all Zcash transactions, Chainalysis noted.
However, the firm points out Zcash is "stronger" due to its zk-SNARK encryption. Regardless, transaction values and "at least one address" for over 99 percent of ZEC activity can be recorded by Chainalysis, the firm claimed.
CryptoSlate reached out to the Electric Coin Company, which oversees Zcash development, for comments on the topic. The firm referred:
Chainalysis cannot trace shielded addresses, unless a specific user were to opt-in and let Chainalysis view their transaction data using their own Viewing Key ("Selective Disclosure").
— Electric Coin Company (@ElectricCoinCo) June 8, 2020
ECC further noted the Zcash protocol has inbuilt features to ensure users utilizing shielded addresses get the "strongest protection against data leakage," while exchanges get "easy" deployment and regulatory compliance.
Meanwhile, Jonathan Leto, an independent developer who's previously worked on Bitcoin Core and Zcash as a contributor, expressed on Twitter about the apparent lack of privacy:
Not clickbait, facts.
Sure does look like @mineZcash has $ZEC Stockholm Syndrome, poor thinghttps://t.co/YSnLNlTt7A
Most exchanges and wallets don't support zaddrs, might as well call it Tcash and embrace the lack of privacy. https://t.co/vOjmSjkoBO pic.twitter.com/nINlz5Ynot
— Duke Leto (@dukeleto) June 9, 2020
The post This crypto forensic firm will now trace Zcash transactions, notes Dash privacy is akin to Bitcoin appeared first on CryptoSlate.
Source: cryptomoneyteam.co
Author: By TeamMMG
Proof of Work (PoW) Consensus Algorithm Defined – Changelly
The important thing thought of the blockchain is that intricate work must be finished so as to add a brand new block. It's this complicated work that makes the blockchain dependable and holistic. Additionally, a reward is paid for this work. That is how individuals get cash for mining.
Moreover the truth that the work must be finished, it must be proved. Right here we are going to start to speak in regards to the Proof-of-Work. Changelly explains the fundamentals of this consensus algorithm.
Proof-of-Work (PoW) was the primary profitable decentralized blockchain consensus algorithm. PoW is utilized in Bitcoin, Ethereum (Ethereum plans to modify to Proof-of-Stake), Litecoin, ZCash, Monero, and lots of different blockchains.
Probably the most well-known algorithm works as follows: initially, community customers ship digital tokens to one another, then all transactions made are collected in blocks and recorded in a distributed open registry – blockchain.
In PoW, all transactions are confirmed with the assistance of sophisticated mathematical calculations, the validity of which might be verified by any consumer of the community. Miners remedy the issue, kind a brand new block, and ensure the transaction. The duties develop into harder every time, because the variety of customers grows, and the load on the community turns into better.
Learn extra about mining cryptocurrencies in Changelly's Mining Information.
Hashing means coming into data of any size and measurement within the supply line and returning a results of a set size specified by the algorithm's hash perform. Within the context of cryptocurrencies corresponding to Bitcoin, transactions after hashing on the output appear to be a set of characters outlined by a size algorithm (Bitcoin makes use of SHA-256).
The hash of every block accommodates the hash output of the earlier block. This will increase the safety of the system, and the order of created blocks can't be violated. The consumer should first accurately decide "nonce" – the quantity added to the tip of the road to create a hash that begins with the required variety of zeros. If the miner managed to unravel the issue, a brand new block is shaped: the following set of transactions is positioned in it, and they're thought-about confirmed.
Consensus algorithms are designed to make sure the accuracy of transactions by checking the accuracy of the actions taken, distributed amongst many community contributors.
The accuracy and velocity of the blockchain depend upon this mechanism. On the similar time, the issue shouldn't be too sophisticated. On this case, block era will take a number of time, which implies that many incomplete transactions cling on the community.
If the issue can't be solved in a predictable time, creating blocks can be a fluke. If the issue is solved too merely, this makes the system weak to abuse, spam, and DoS assaults.
The answer must be simply appropriate, in any other case, not all nodes will perceive whether or not the calculation was carried out accurately, which implies that they should belief different nodes, which isn't in step with one of many important rules of the blockchain – full transparency.
This algorithm is sincere and comprehensible. It may be trusted. Nonetheless, its most important issues are monumental bills and a 51% assault.
In 2017, a mean of 163 kW/h of power was required to finish a single transaction within the Bitcoin system. With this quantity of power, 5 and a half days can meet the wants of a household of three residing in a small one-story home.
Additionally, these miners which have quicker and extra highly effective ASICs get greater than the remaining. Because of this, Bitcoin will not be as decentralized because it was initially meant.
The place is POW used? In lots of cryptocurrencies. After all, probably the most well-known of them is Bitcoin, and it was Bitcoin that set this development. It makes use of the Hashcash algorithm, which lets you change the complexity of the duty relying on the community's complete computing energy.
The typical block formation time is 10 minutes. An identical system is applied in bitcoin-like cryptocurrencies, for instance, in Litecoin. One other main undertaking that makes use of PoW is Ethereum. Contemplating that nearly three-quarters of all blockchain initiatives are applied on this platform, we are able to confidently say that the majority functions use a consensus mannequin with proof of labor.
To confirm transactions, Proof-of-Stake requires contributors to share a portion of the cash that they retailer on-line. PoS is an alternate PoW mechanism, first applied in 2012 within the cryptocurrency PPCoin (renamed PeerCoin). The thought behind Proof-of-Stake is to unravel the Proof-of-Work downside related to excessive power prices.
What Is Proof of Stake Consensus Mechanism? An article with a full clarification.
Validators verify the validity of accomplished transactions. The benefit of PoS is that it's extra energy-efficient and maybe higher at stopping assaults than PoW.
Validators stake their cash on transactions by blocking cash. The mixer that's used to finish the block is chosen in proportion to the worth set on the community. Proof-of-Stake prevents community misbehavior by shifting verification authority to probably the most lively and customers. The consensus algorithm of the stake is utilized in Peercoin, Decred, and can quickly function on Ethereum, during which the transition from one algorithm to a different was prescribed prematurely.
Will the Ethereum staking be worthwhile?
Proof-of-Work and Proof-of-Stake might be thought-about the 2 hottest consensus algorithms on this planet of cryptocurrencies. Nonetheless, a number of mechanisms have their subtleties and options.
Their record could also be fairly intensive, so we record a number of of probably the most well-known:
Delegated Proof of Stake is a generic time period that describes the evolution of primary consensus protocols primarily based on stake affirmation. DPoS is utilized in BitShares, EOS, and Tezos;
Proof of Authority is a reputation-based consensus algorithm that gives a sensible and environment friendly resolution for blockchains (particularly personal ones).
Zero-Data Proof is a cryptographic protocol that permits one facet (the prover) to verify the reality of the assertion to the opposite celebration (the verifier), with out disclosing any further details about it (neither the content material nor the supply from which the prover discovered in regards to the openness).
Regardless of all the professionals and cons of consensus strategies, every protocol's safety largely is determined by the developer. In the meanwhile, probably the most worthwhile choice is to mix the 2 algorithms, so different technique of proof seem, primarily based on a person precept of coexistence of PoS and PoW.
Individually, it's price highlighting the algorithms Proof of Capability and Proof of Storage, during which to verify actions within the system, they use an actual useful resource, which is the quantity of disk house.
Changelly is a safe prompt crypto alternate that has 150+ cryptocurrencies accessible to be swapped and acquired at market-best charges. Working since 2015, the platform and its cell software entice over 1,000,000 guests month-to-month, who all get pleasure from fast and easy exchanges, low clear charges, and 24/7 stay assist.
Source: thebitcoinexaminer.com
Author: TBE
Bitcoin IRA™ Launches An All-New Crypto Savings Program, Called Saver IRA™ For Retirement Investors
The company's Saver IRA product enables individuals to automatically contribute monthly and invest in cryptocurrencies starting with as little as $100
LOS ANGELES, June 11, 2020 /PRNewswire/ — Bitcoin IRA, the world's first, largest, and most secure digital asset IRA technology platform that allows clients to purchase cryptocurrencies and other digital assets for their retirement accounts, today announced the launch of its newest product, called "Saver IRA," which is aimed at helping individuals build up retirement savings and allowing them to invest in digital assets in small increments starting with as little as $100 per month.
Saver IRA, from Bitcoin IRA
Saver IRA enables clients to invest in cryptocurrencies and other digital assets for their retirement accounts with recurring contributions. After signing up for a Saver IRA account, an individual can easily connect their checking or savings account online, set their recurring contribution frequency and then automatically grow their Saver IRA account every month. The account holder then selects their self-directed allocation online to control the assets they want in their account. They can choose from several leading assets including Bitcoin (BTC), Ethereum (ETH), Ripple (XRP), Litecoin (LTC), Physical Gold (PG), or Dollars (USD). Account holders benefit from all the same exclusive tools, materials and resources available on the proprietary Bitcoin IRA platform.
Here are some key highlights of Saver IRA:
Monthly Recurring Contributions: Contribute every month by connecting a checking or savings account.
Automated Crypto Investment: Contributions are automatically invested into the cryptocurrencies selected by the client.
No Long-Term Commitments: Pause or cancel additional contributions anytime without fees or penalties.
Only $100 To Start: Open a new Saver IRA account with as little as $100.
$100 Million Custody Insurance: Digital assets under custody are insured for up to $100 million.
Significant Tax Advantages: Maximize your account growth with tax deferred and potentially tax-free investing.
Bitcoin IRA recently surpassed 50,000 account holders and $400 million in transaction volume. In April the company announced it added physical gold to its list of available assets for its clients to buy, sell or swap on the company's self-directed retirement platform.
Chris Kline, COO and Co-Founder of Bitcoin IRA said:
"We are thrilled with this announcement because it expands access to digital assets for greater masses of people that were previously unable to save and invest in cryptocurrencies for retirement. Now every person interested in starting their retirement with bitcoin has the ability to with Saver IRA. This furthers our goal to provide equal access to retirement accounts and fulfill our mission of helping more Americans retire."
About Bitcoin IRA
Bitcoin IRA, available at bitcoinira.com, is the world's first, largest, and most secure digital asset IRA technology platform that allows clients to purchase cryptocurrencies and physical gold for their retirement accounts.
The company provides a trading platform for self-directed retirement accounts which allows clients to set up a qualified digital asset IRA account, transfer funds from an existing IRA custodian, execute trades in real-time 24/7 through a leading exchange, and store the funds in an industry leading multi-signature digital wallet from BitGo, Inc.
Source: news.yahoo.com
Donald Trump Said Bitcoin Is Based On "Thin Air," But Wall Street Is Buying En Masse
WASHINGTON, DC – JUNE 08: U.S. President Donald Trump pauses while making remarks as he participates … [+] in a roundtable with law enforcement officials in the State Dining Room of the White House, June, 8, 2020 in Washington, DC. From L-R is Attorney General William Barr, Daniel J, Cameron Attorney General for the Commonwealth of Kentucky, Trump. (Photo by Doug Mills-Pool/Getty Images)
U.S. President Donald Trump said the value of Bitcoin and cryptocurrencies are based on "thin air." Yet, Wall Street is increasingly investing in Bitcoin.
Grayscale, an investment firm that enables institutions to invest in Bitcoin through a publicly-traded vehicle, saw 88% of its investments come from institutional investors in the first quarter of 2020.
Fidelity, which manages $2.46 trillion in assets, found in a survey that about one third of institutions in U.S. and Europe are invested in cryptocurrencies.
Following the lead of billionaire investor Paul Tudor Jones, data shows that institutions are beginning to perceive Bitcoin as a store of value.
Institutional inflow into Grayscale Bitcoin Trust consistently increased throughout Q1 2020
In July 2019, President Trump criticized Bitcoin and crypto assets. He said their value is highly volatile and are not considered as money.
President Trump wrote:
"I am not a fan of Bitcoin and other Cryptocurrencies, which are not money, and whose value is highly volatile and based on thin air. Unregulated Crypto Assets can facilitate unlawful behavior, including drug trade and other illegal activity."
But, in the same statement, President Trump emphasized that the U.S. dollar is the most dominant currency in the world and it will stay that way.
The need to mention the dominance of the dollar along with Bitcoin and cryptocurrencies by the President showed that mainstream awareness of the emerging asset class was growing.
"We have only one real currency in the USA, and it is stronger than ever, both dependable and reliable. It is by far the most dominant currency anywhere in the World, and it will always stay that way. It is called the United States Dollar!" President Trump noted.
As the world encounters heightened geopolitical risks, global uncertainty, and an economic slump, institutional investors are portraying their willingness to take a risk in investing in a relatively new asset that could be a hedge against inflation in the long run.
In a famous essay, Xapo CEO Wences Casares laid out his investment thesis for Bitcoin and why he thinks BTC could reach $1 million.
Casares said Bitcoin is not an asset nor does it have intrinsic value. But, it is money and it transfers value effectively in a decentralized manner.
The same can be said about gold. By nature, gold does not have intrinsic value. Over time, because people considered gold to have value for thousands of years, it is perceived as a store of value.
As Tudor Jones said, Bitcoin will gain value and credibility every day that passes. Casares noted a similar point:
"Bitcoin is not an asset. It does not produce earnings or dividends and it does not generate interest. And Bitcoin has no intrinsic value. Bitcoin is simply money and most forms of good money have no intrinsic value."
Bitcoin is only 11-years-old. It is not possible to conclusively state that BTC will become a world currency and evolve into an effective hedge against inflation.
But, Wall Street and institutional investors are taking the bet that BTC will eventually turn into an established store of value and money, like gold did over time.
Source: www.forbes.com
Author: Joseph Young