Las revelaciones de Microsoft sobre cómo se perfila el gasto en tecnología corporativa en 2023 recibirán mucha atención cuando el gigante del software informe el martes por la tarde.
Entre los analistas encuestados por FactSet, el consenso es que Microsoft informe ingresos en el trimestre de diciembre (segundo trimestre fiscal) de $ 52,99 mil millones (un 2,4% más anualmente) y EPS de $ 2,29 (un 7,5% menos).
Microsoft comparte la guía de ventas trimestrales para sus segmentos de informes en su convocatoria de ganancias . Para el trimestre de marzo, el consenso de ingresos de la empresa se sitúa en 52.420 millones de dólares (un 6,2% más).
Eric Jhonsa, columnista de tecnología de Real Money, publicará en vivo el informe de ganancias de Microsoft, junto con una conferencia telefónica programada para las 5:30 p. m., hora del este.
Actualice su navegador para obtener actualizaciones.
6:41 p. m., hora del este: luego de algunos problemas técnicos durante la última pregunta (se trataba de las rampas de Azure en clientes grandes), la llamada de Microsoft finalizó.
Las acciones han bajado actualmente un 0,7 % fuera del horario de atención a 240,25 dólares. Inicialmente negociaron ganancias posteriores más altas después de que Microsoft informara números bastante buenos para muchos de sus negocios centrados en la empresa, pero devolvieron sus ganancias después de que la compañía revelara en su llamada que vio tendencias comerciales más suaves en diciembre y guió a sus segmentos de informes para que colectivamente publicar ingresos FQ3 de $ 50.5B- $ 51.5B, por debajo de un consenso de $ 52.42B. Gran parte del déficit proviene del segmento de informática más personal, que sigue presionado por la débil demanda de PC.
Los ingresos de Azure aumentaron un 38 % Y/Y en moneda constante en el FQ2, con Microsoft prediciendo una desaceleración secuencial de 4 a 5 puntos en el crecimiento en el FQ3. Las reservas comerciales aumentaron un 7 % interanual, con Microsoft como guía para un crecimiento de las reservas del tercer trimestre prácticamente plano en medio de comparaciones difíciles.
Gracias por unirte a nosotros.
Corrección: Microsoft espera que el crecimiento de los ingresos de Azure en moneda constante se reduzca de 4 a 5 puntos en relación con su tasa de salida al final del trimestre de diciembre, que se dijo que estaba a mediados de los años 30, en lugar de un trimestre completo. tasa del 38%.
6:27 p. m., hora del este: Una pregunta sobre el crecimiento de Office 365: ¿Cuánto está siendo impulsado por el crecimiento de puestos en relación con el crecimiento de ARPU?
Hood dice que Microsoft está viendo un crecimiento de puestos bueno pero moderado, y que el crecimiento del ARPU sigue siendo sólido gracias a la adopción del plan E5.
Nadella agrega que otras plataformas de software "por usuario" como Viva y Power están experimentando un fuerte crecimiento.
6:24 p. m., hora del este: una pregunta sobre si Microsoft aún puede cumplir con la orientación anterior para el crecimiento de ingresos de dos dígitos en el año fiscal 23.
Hood no reitera la guía. Dice que Microsoft continúa observando el mercado de PC en busca de signos de mejora. Agrega que los esfuerzos de la compañía para reducir costos están limitando las caídas de los márgenes operativos en medio de presiones de primera línea.
6:19 PM ET: Nadella afirma que el uso/compromiso de varios productos de Microsoft continúa experimentando un fuerte crecimiento en medio de una actividad de acuerdos más lenta.
Hood agrega que Microsoft sigue siendo a menudo una buena demanda de conjuntos de productos, pero más presiones comerciales para las ventas de productos independientes.
6:17 p. m., hora del este: Microsoft ahora está cerca del AH plano, ya que los inversionistas digieren la guía FQ3 de la compañía y los comentarios sobre la demanda.
6:15 p. m., hora del este: Una pregunta sobre el entorno de gasto en TI de EE. UU.
Nadella dice que sus comentarios sobre el entorno de gasto se referían al gasto global. Reitera que Microsoft todavía espera que el gasto en TI siga creciendo como un % del PIB , aunque ve cierta cautela y esfuerzos para "optimizar" el gasto en tecnología a corto plazo.
6:12 PM ET: La primera pregunta es sobre el acuerdo de OpenAI y su impacto de primera línea.
Nadella afirma que Microsoft cree que la IA será "la próxima gran ola de plataformas" y busca integrarla en todas sus soluciones. Destaca los servicios actuales basados ​​en IA para la plataforma Power, GitHub, etc.
6:08 p. m. ET: comienza la sesión de preguntas y respuestas. Las acciones ahora han subido un 1,9% AH.
6:08 p. m., hora del este: Se espera que los gastos operativos aumenten entre un 11 % y un 12 % anual en el tercer trimestre.
Regarding the second half of fiscal 2023, Hood says Microsoft expects decelerating revenue growth relative to the first half. Opex growth is expected to drop to the low single digits in the June quarter. Higher energy costs are now expected to be a smaller headwind than previously expected.
6:05 PM ET: FQ3 segment guidance:
Productivity & Business Processes – $16.9B-17.2B vs. a $16.94B consensus
Intelligent Cloud – $21.7B-$22B vs. a $22.19B consensus
More Personal Computing – $11.9B-$12.3B vs. a $13.43B consensus
Constant-currency Azure revenue growth is expected to decelerate by 4 to 5 points Q/Q. Windows OEM revenue is expected to be down by a mid-30s percentage.
Shares are up 2.9% AH.
6:00 PM ET: Forex is expected lower revenue growth by 3 points and opex growth by 2 points in FQ3 (less than in FQ2).
5:58 PM ET: The Xandr acquisition provided a 6-point boost to search and news ad revenue, which was up 10% in dollars and 15% in CC.
5:57 PM ET: Hood says Devices revenue (down 39% Y/Y) was hurt by "execution challenges" related to new product launches.
5:55 PM ET: Hood says Microsoft exited FQ2 with constant-currency Azure growth in the mid-30s (compares with 38% growth for the full quarter).
5:53 PM ET: Hood is now going over Microsoft's FQ2 segment performance. Notes Office commercial sales continue benefiting from seat growth among SMBs and frontline workers, and from greater enterprise adoption of costlier E5 plans.
5:50 PM ET: Hood recaps Microsoft's FQ2 performance. Notes there was some weakening of business in December, with moderating Azure consumption.
Microsoft has trimmed its AH gains a bit on those remarks: Shares are now up 3.3% AH.
5:48 PM ET: Amy Hood is now talking.
5:48 PM ET: Gaming monthly active users topped 120M.
5:46 PM ET: LinkedIn is said to now have over 900M registered users. Users for the Start feed are said to be up over 30% Y/Y.
5:44 PM ET: Nadella says (amid weak PC demand) time spent per Windows PC remains up 10% relative to pre-pandemic levels. Also says the Azure Virtual Desktop service is seeing strong growth.
5:42 PM ET: Nadella says Teams now has more than 280M monthly active users, while asserting the platform is taking share across every category it participates in. Teams Phone is said to have added more than 5M PSTN seats over the last 12 months.
5:39 PM ET: Power Automate customers are up over 50% Y/Y.
5:38 PM ET: GitHub is said to now be home to more than 100M developers. More than 1M people have used the GitHub Copilot (AI-based code generation) service.
5:37 PM ET: Nadella asserts (following the OpenAI deal) Microsoft has the most powerful cloud-based supercomputer infrastructure for AI workloads. Says Azure ML revenue has risen over 100% Y/Y for 5 quarters in a row.
5:35 PM ET: Nadella says twice as many CPU cores are run on Azure as were run two years ago, and that the Azure Arc hybrid cloud service now has 12K customers (up 2x Y/Y).
5:34 PM ET: Nadella says firms are now "optimizing" their spend after accelerating it during the pandemic, and are exercising caution in an uncertain environment.
5:33 PM ET: Satya Nadella is talking.
5:31 PM ET: The call is starting. Microsoft is going over its safe-harbor statement.
5:28 PM ET: Microsoft's call typically features prepared remarks from CEO Satya Nadella and CFO Amy Hood, after which the execs take questions from analysts. Guidance is shared by Hood towards the end of her prepared remarks.
5:26 PM ET: Hi, I'm back to cover Microsoft's call. Here's the webcast link, for those wanting to tune in.
4:53 PM ET: I'm taking a short break, but will be back to cover Microsoft's earnings call, which is set to kick off at 5:30 PM ET and will include the sharing of the company's quarterly sales guidance.
Shares are up 4.1% AH to $251.90 after Microsoft posted mixed FQ2 results (revenue slightly missed, EPS slightly beat), while reporting 7% commercial bookings growth and 29% commercial RPO (contract backlog) growth.
4:48 PM ET: One other bright spot: Dynamics 365 business app revenue was up 21% in dollars and 29% in CC, as the platform continues taking share among SMBs and midmarket firms. Total Dynamics revenue was up 13% in dollars and 20% in CC.
4:41 PM ET: The Office 365 installed base keeps steadily growing. Office 365 commercial seats were up 12% Y/Y, and Microsoft 365 consumer subs were up 1.9M Q/Q and 6.8M Y/Y to 63.2M.
4:39 PM ET: Free cash flow was down 43% Y/Y to $4.9B, with Microsoft noting it would've been down 16% if not for a one-time tax payment. The company ended FQ2 with $99.5B in cash/equivalents and $48.1B in debt.
4:35 PM ET: $4.6B was spent on stock buybacks in FQ2, even with FQ1.
4:31 PM ET: As a reminder, Microsoft's quarterly sales guide, which tends to have a big impact on how its stock trades the next day, isn't in the earnings report. It'll be shared on the call.
4:29 PM ET: The segment breakdown helps explain why Microsoft is higher post-earnings in spite of a slight revenue miss: The miss was caused by More Personal Computing, which is dominated by PC and consumer-centric businesses that were known to be weak. The two segments dominated by sales of software and cloud services to businesses beat estimates.
4:26 PM ET: FQ2 revenue by business segment:
Productivity & Business Processes (Office, Dynamics, LinkedIn) – $17B, +7% Y/Y and above a $16.79B consensus
Intelligent Cloud (Azure, server software) – $21.51B, +18% and above a $21.43B consensus
More Personal Computing (Windows, Xbox, Surface, ads) – $14.24B, -19% and below a $14.76B consensus.
4:23 PM ET: $6.8B was spent on capex in FQ2, compared with $6.6B in FQ1 and $7.4B a year earlier.
4:21 PM ET: Weighing on EPS some: While revenue grew 2%, Microsoft's operating expenses were up 19% Y/Y on a GAAP basis to $14.9B, and 11% excluding one-time charges.
With Microsoft having slowed down hiring and just announced layoffs, opex growth will likely slow in the coming quarters.
4:16 PM ET: Dollar-based and CC revenue growth for various Microsoft businesses. As the numbers show, forex was a big headwind across the board, and big declines in Windows OEM, Devices (Surface, Xbox, etc.) and to a lesser extent Xbox content/services revenue also weighed on the top line.
On the other hand, Azure, Dynamics, LinkedIn, search/news ads, and server products and cloud services recorded double-digit growth, and Office Commercial grew 7%.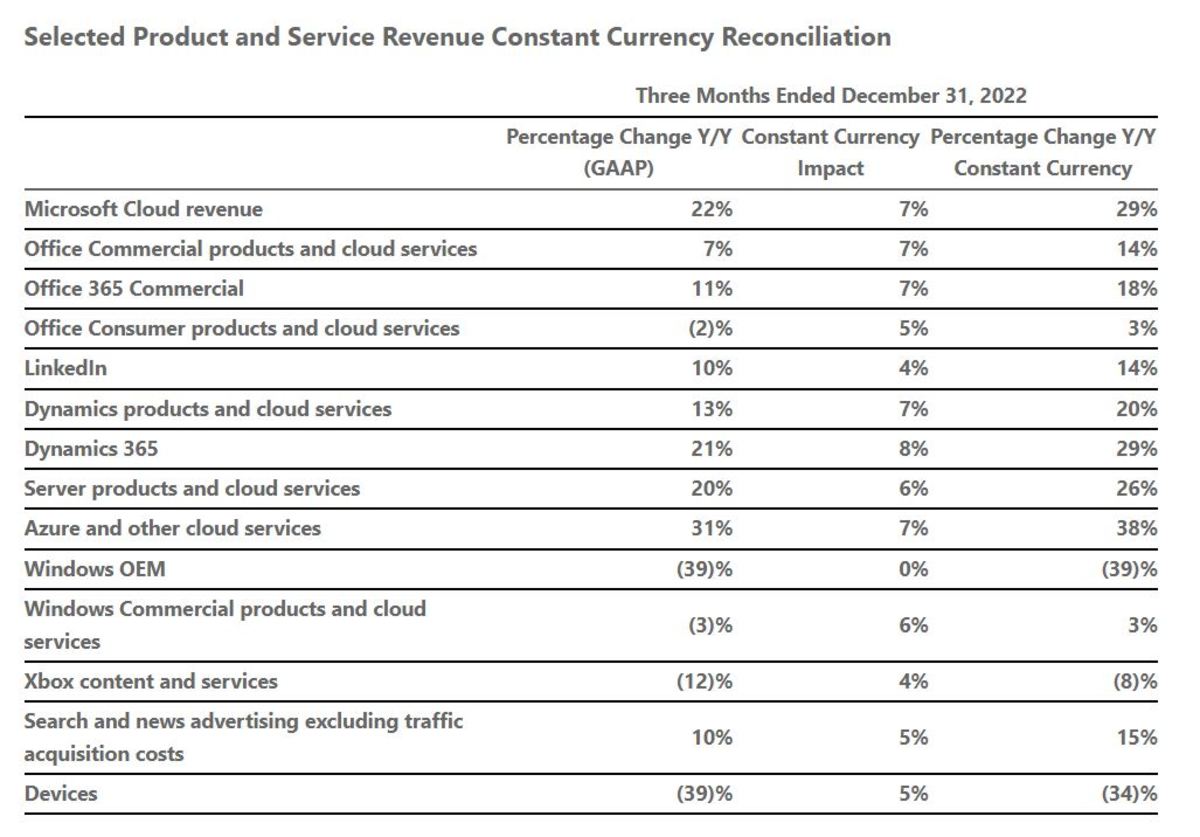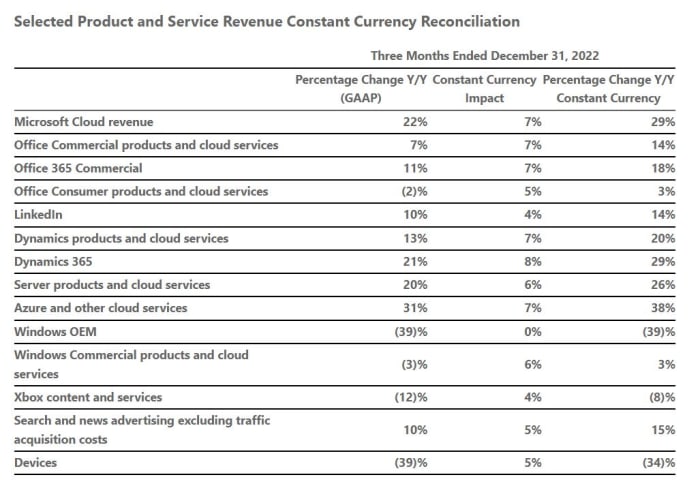 4:09 PM ET: Shares are holding onto their gains: They're now up 4.9% AH to $254.00. Here's the FQ2 report, for those wanting to take a look.
4:08 PM ET: Commercial bookings were up 7% Y/Y in dollars and 4% in constant currency. With bookings up 32% in dollars and 37% in CC a year ago, Microsoft was facing a tough annual comp.
Notably, Microsoft's commercial RPO (contract backlog) was up 29% in dollars and 26% in CC to $189B.
4:05 PM ET: Revenue rose 2% Y/Y in dollars and 7% in constant currency.
Azure revenue rose 31% in dollars and 38% in CC, slightly topping CC guidance of 37%.
4:04 PM ET: GAAP EPS, which bakes in $0.12/share of "severance, hardware-related impairment, and lease consolidation costs," was $2.20.
4:02 PM ET: Results are out. FQ2 revenue of $52.75B slightly misses a $52.99B consensus. Adjusted EPS of $2.32 beats a $2.29 consensus.
Shares are up 4.1% after-hours.
4:00 PM ET: Microsoft's stock closed down 0.2% to $242.04. The FQ2 report should be out shortly.
3:57 PM ET: As usual, Microsoft's Azure revenue growth will be closely watched. In October, Microsoft guided for constant-currency Azure growth (42% in FQ1) to drop about 5 points sequentially.
3:51 PM ET: The FactSet consensus is for FQ2 revenue of $52.99B and EPS of $2.29.
Ahora que se establecen los presupuestos de TI para 2023, es probable que se preste mucha atención a la guía de ingresos de Microsoft (el consenso de ingresos FQ3 es de $ 52,42 mil millones), junto con el crecimiento de las reservas comerciales y los comentarios generales sobre las tendencias de gastos corporativos.
3:47 PM ET: Hola, soy Eric Jhonsa. Estaré blogueando en vivo el informe y la llamada de ganancias de Microsoft.
Eric Jhonsa, columnista de tecnología de Real Money, publicará en vivo el informe de ganancias de Microsoft, junto con una conferencia telefónica programada para las 5:30 p. m., hora del este.
Source: https://www.thestreet.com/investing/microsoft-second-quarter-fiscal-2023-earnings-live-blog