In a recent investigation, European police busted a major illegal online streaming business that had reportedly been running for the past five years.
Bloomberg reported that the police conducted 15 house searches, arresting 11 people and successfully taking down 50 servers across nine countries.
The European law enforcement agency Europol claimed to have found cryptocurrencies, property, jewelry, luxury cars, and cash worth $5.4 million from the business owners. An additional $1.25 million were frozen in several bank accounts, Europol stated.
The streaming ring, which mainly operated out of Spain, was a highly organized illegal business providing its services to more than 2 million customers. It also boasted of an exclusive customer support team and high standards of quality control.
According to Europol, the group offered more than 40,000 channels, movies, documentaries, and other forms of content. Over the five years of operation, they received almost $17 million in payments through PayPal, wire transfers and cryptocurrencies.
As online media streaming touches new highs, so does illegal streaming and piracy of copyrighted content. According to ABI Research, almost 17% of the worldwide online content streaming population streams content illegally.
This is primarily due to major media streaming platforms such as Netflix and Walt Disney Co. charging premium fees for their services. The Bloomberg report notes that the threat will only grow if these companies "gradually raise prices in coming years to capitalize on their fast-growing subscriber bases."
Midia Research analyst Tim Mulligan told said, "The background threat of piracy means that the subscription video-on-demand services will have the ongoing threat of piracy as a pricing factor."
Source: www.bit-cointalk.com
IQ Option Review 2020: How To Make Money Online With IQ Option
IQ Option review 2020 and how to make money online With IQ Option has been obtained by NewsOne Nigeria.
NewsOne Nigeria reports that IQ Option is a financial services provider that is based in Cyprus. Designated as a Cypriot Investment Firm (CIF), the trading platform comes under the jurisdiction of the Cyprus Securities Exchange Commission (CySEC).
IQ Option first went live in 2013 and since then, it has grown by leaps and bounds. With its low minimum deposit requirement at $10 and free demo account, IQ Option has truly made online trading accessible for everyone.
Risk Warning – Your capital is at risk.
We begin this IQ Option Review with something very exciting because if there's one thing that is certain to attract a lot of attention, it's this broker's platform. IQ Option 4.0 brings a truckload of innovations to the table while retaining all the best and most important features. This is the very first trading platform in the world based on WebGLtechnology, so you will be able to keep track of up to nine charts at the same time without having any trouble managing them.
As is the case with all serious companies in this industry, IQ Option also has a way to provide you with a way to trade on the go. However, the thing that sets this app apart from most other similar products is the fact that it can be downloaded to pretty much any platform and operating system you can imagine. IQ Option iOS and Android versions are readily available, meaning that you can head on over to Google Play or the App Store and download your app completely free of any charge. Your mobile device will, therefore, allow you to access all of the most important features of the company's offer (low financial requirements, free demo, non-stop support etc.), plus you will even have access to trading cryptocurrencies through CFDs.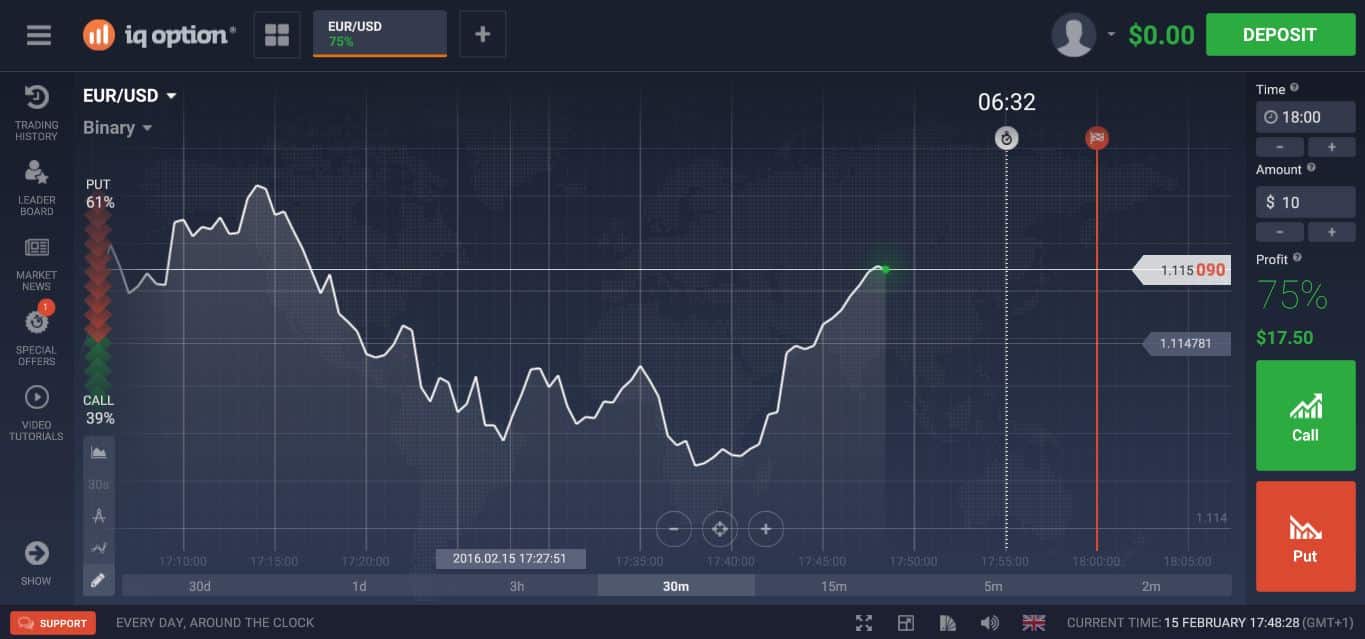 Over the last few years, cryptocurrencies have become immensely popular with online traders. There are hundreds of coins you can invest in, and the market is extremely vibrant and exciting. IQ option cryptocurrencies are an excellent example of how in tune with the market this company is because they have gone all out on this right from day one. 17 different coins are available for trading, and all of them are the industry's most popular assets. Each can be analyzed quickly and thoroughly and bought with a single click.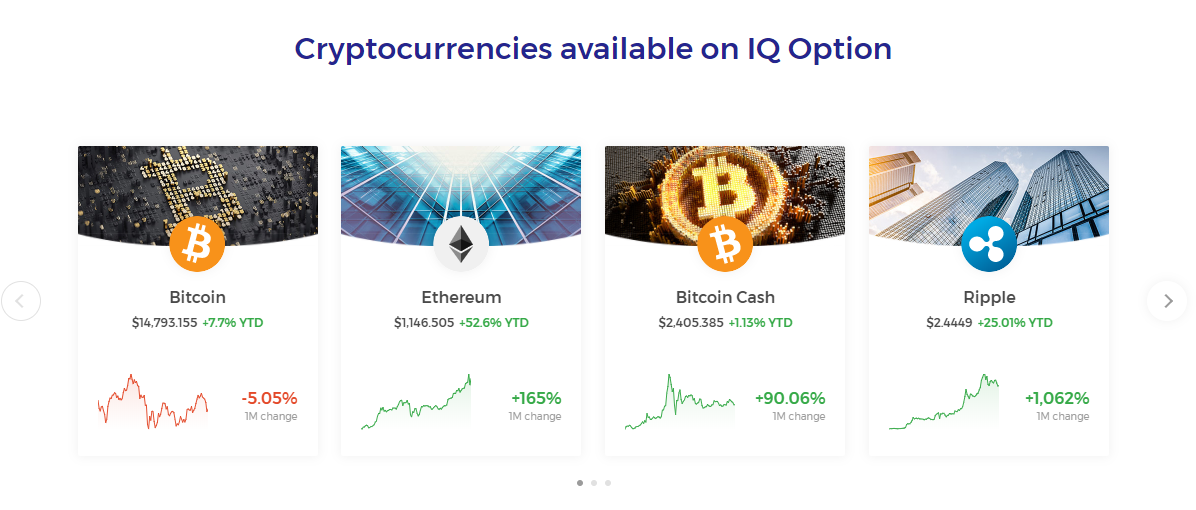 IQ Option Hodly is the broker's crypto wallet which allows you to store, but also buy and sell various cryptocurrencies. A product like this is not found very often when you're examining what other brokers have to offer, so we can certainly give these guys points for originality in this case. Yes, you can buy and sell cryptos directly from your Hodly wallet, which is a huge advantage. This is done through an exchange that comes with the app, so you don't have to worry about a thing. On top of that, all transfers between Hodly users are completely free.
The forex market is the largest market in the world, so it's logical that a broker of IQ Option's calibre will want to offer its clients an opportunity to join it. As a matter of fact, the amount of IQ Option forex possibilities is very good, with 49 different pairs at your disposal at the moment. All the most important currencies are there, naturally, but you can trade with quite a few exotic ones, such as SGD, MXN, and a bunch of others.
Apart from a completely free IQ Option Demo Account which doesn't even require a deposit from you, there are two more possibilities for you to choose from – Real and VIP account types. Both of them are extremely well equipped and they offer some very interesting features, too.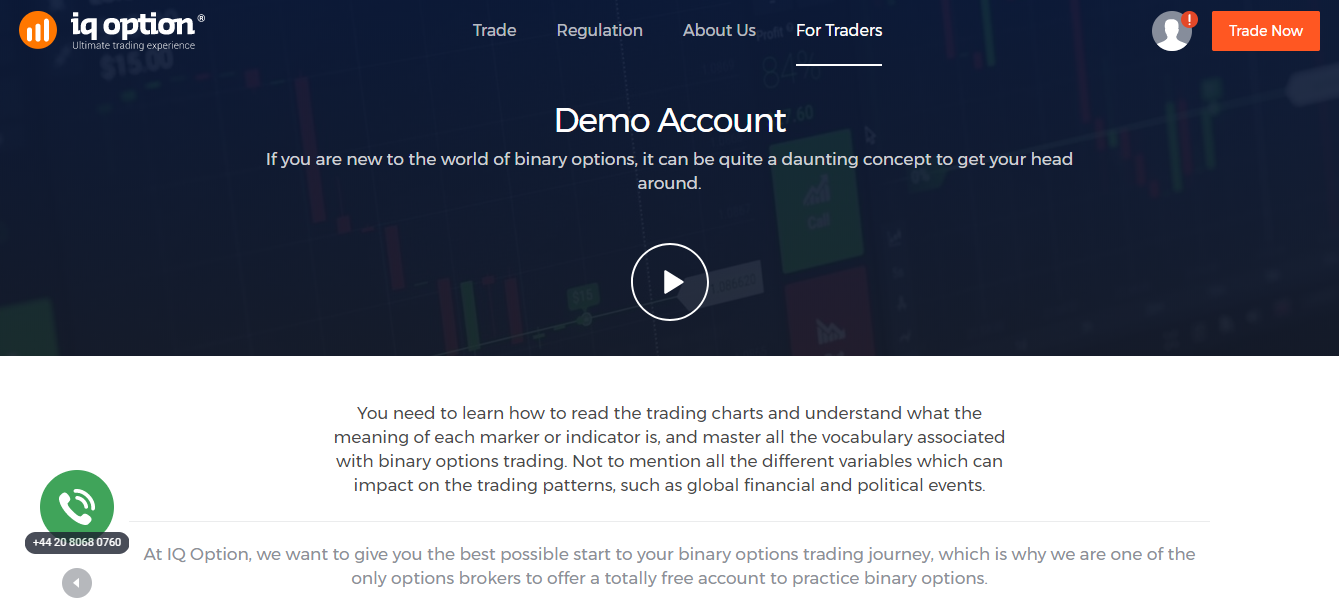 Financial requirements are what propelled this broker to the top of this industry and our IQ Option Review would be seriously lacking if we didn't mention them. So what's so special about IQ Option? Well, your minimum deposit requirement is only $10, for starters, and you won't find better deals anywhere else on the market. With these ten dollars, you can open a Real account and enjoy all the benefits it has to offer. Furthermore, the minimum trade is set at only $1 (for binary and digital options), $20 for forex and CFD positions and $30 for fx options, but you can invest up to $5000, which provides you with complete control of your account funds. Again, you won't find a better deal anywhere else. Want to make a withdrawal? You only need two dollars in your account for that! And you will never have to ask yourself is IQ Option legit because all your trading funds will be treated with due care.
When it comes IQ Option Deposit Methods, you get to choose between bank wire transfers, Visa, Maestro, and MasterCard credit cards and several online transfer methods such as Webmoney, Skrill, Neteller and much more. Everything this broker has to offer is designed to make this type of trading as accessible as possible, so all you have to do is find the winning IQ Option Pattern.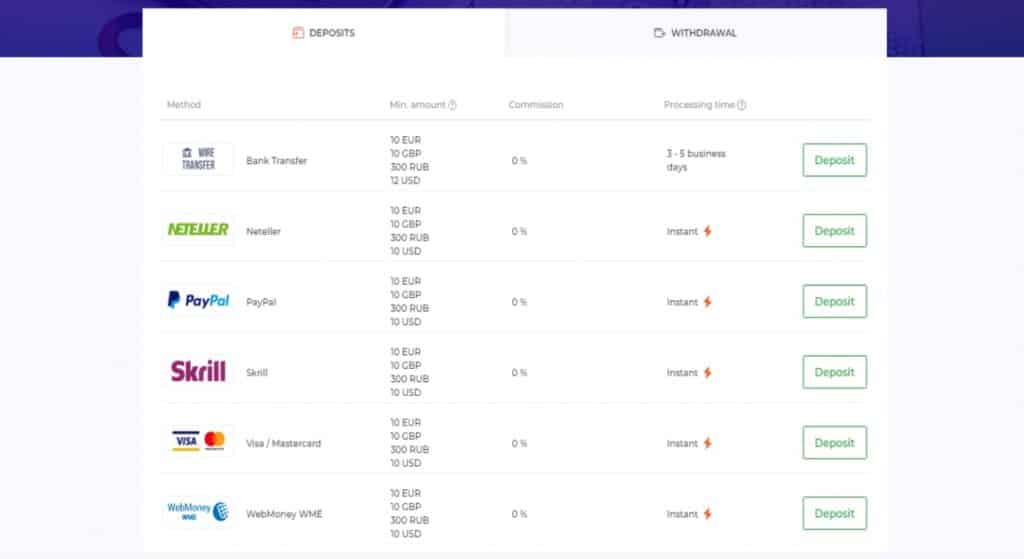 IQ Option payment methods mean you now have more options than ever before because the broker has added AdvCash to the list, which is a method pretty much all countries can use, even Brasil and China. Furthermore, TrustPay is now available for traders from the Czech Republic and Slovakia, Przelewy24 for Poland, MyBank for Italy, Trustly for Germany, Entercash for Austria and Germany, and Giropay also for Germany. Therefore, you really can't complain anymore about IQ Option payment methods one bit.
Without any doubt, IQ Option is among the very best brokers in the world, and we hope this IQ Option Review explains why. Clever business policy and its flawless execution attracted tens of thousands of traders to this company. With minimum investments, you can really see what binary options trading is all about and you will be extremely well protected every step of the way.
Want to make money online with IQ Option? Click the link below…
Source: newsoneng.com
Author: Published 12 hours agoon June 11, 2020By NewsOne Nigeria
Bitcoin IRA™ Launches An All-New Crypto Savings Program, Called Saver IRA™ For Retirement Investors
LOS ANGELES, June 11, 2020 /PRNewswire/ — Bitcoin IRA, the world's first, largest, and most secure digital asset IRA technology platform that allows clients to purchase cryptocurrencies and other digital assets for their retirement accounts, today announced the launch of its newest product, called "Saver IRA," which is aimed at helping individuals build up retirement savings and allowing them to invest in digital assets in small increments starting with as little as $100 per month.
Saver IRA enables clients to invest in cryptocurrencies and other digital assets for their retirement accounts with recurring contributions. After signing up for a Saver IRA account, an individual can easily connect their checking or savings account online, set their recurring contribution frequency and then automatically grow their Saver IRA account every month. The account holder then selects their self-directed allocation online to control the assets they want in their account. They can choose from several leading assets including Bitcoin (BTC), Ethereum (ETH), Ripple (XRP), Litecoin (LTC), Physical Gold (PG), or Dollars (USD). Account holders benefit from all the same exclusive tools, materials and resources available on the proprietary Bitcoin IRA platform.
Here are some key highlights of Saver IRA:
Monthly Recurring Contributions: Contribute every month by connecting a checking or savings account.
Automated Crypto Investment: Contributions are automatically invested into the cryptocurrencies selected by the client.
No Long-Term Commitments: Pause or cancel additional contributions anytime without fees or penalties.
Only $100 To Start: Open a new Saver IRA account with as little as $100.
$100 Million Custody Isurance: Digital assets under custody are insured for up to $100 million.
Significant Tax Advantages: Maximize your account growth with tax deferred and potentially tax-free investing.
Chris Kline, COO and Co-Founder of Bitcoin IRA said:
"We are thrilled with this announcement because it expands access to digital assets for greater masses of people that were previously unable to save and invest in cryptocurrencies for retirement. Now every person interested in starting their retirement with bitcoin has the ability to with Saver IRA. This furthers our goal to provide equal access to retirement accounts and fulfill our mission of helping more Americans retire."
About Bitcoin IRA
Bitcoin IRA, available at bitcoinira.com, is the world's first, largest, and most secure digital asset IRA technology platform that allows clients to purchase cryptocurrencies and physical gold for their retirement accounts.
The company provides a trading platform for self-directed retirement accounts which allows clients to set up a qualified digital asset IRA account, transfer funds from an existing IRA custodian, execute trades in real-time 24/7 through a leading exchange, and store the funds in an industry leading multi-signature digital wallet from BitGo, Inc.
Bitcoin IRA is a financial services technology provider, and as such, is not a financial adviser, cryptocurrency, exchange, custodian, wallet provider, initial coin offering (ICO), or money transmitter. Bitcoin IRA is privately funded and based in Los Angeles.
Learn more about Bitcoin IRA at bitcoinira.com or call 866-333-4307.
Mike Schrobo
press@bitcoinira.com
View original content to download multimedia:http://www.prnewswire.com/news-releases/bitcoin-ira-launches-an-all-new-crypto-savings-program-called-saver-ira-for-retirement-investors-301074426.html
SOURCE Bitcoin IRA
[ Back To TMCnet.com's Homepage ]
Source: www.tmcnet.com
Bitcoin Falls More Than 8% As Crypto Markets See Red
Bitcoin prices declined today, as many cryptocurrencies were in the red. (Photo by Chesnot/Getty … [+] Images)
Bitcoin prices dropped by more than 8% today, approaching the $9,000 level as digital currency markets suffered widespread losses.
The largest digital currency by market capitalization was not alone, as at the time of this writing, all of the top 10 cryptocurrencies were in the red, with 9 in 10 being down at least 5%, according to CoinMarketCap.
Digital currencies were not the only asset class to record losses today, as stocks experienced notable declines.
The S&P 500 index, for example, dropped nearly 6% today, Google Finance data showed.
Widespread Sell-Off
There was a massive decline "in the equity markets today, with large cap U.S. stock indices plunging more than 5-6%," said John Todaro, director of digital currency research for TradeBlock.
"There was a general flight to cash today, with even gold ETFs trading down. Bitcoin and other cryptocurrencies were not immune to the sell-off and in a heightened correlation between assets, nearly everything traded lower," he noted.
Other analysts provided similar perspectives, with Avi Felman, head of trading at BlockTower Capital, stating that:
"The recent sharp drop in the equity markets is rattling investors who have watched Bitcoin struggle to break 10,000 even in a risk on market."
"Now that equity markets are suggesting there may be continued downside, digital asset investors are reminded of the last time equity markets fell out (which coincided with a large bitcoin drawdown) and are selling out of fear about a potential resumption of the equity bear market," he claimed.
Denis Vinokourov, head of research for London-based digital asset firm Bequant, also spoke to the widespread declines, attributing them to bearish forecasts for the job market and the recent dovish comments made by the Federal Reserve.
Because of these factors, "stocks fell across the board and it appears that crypto markets are once again not immune when it comes to cash crunches and margin calls."
"The move is likely exacerbated by already bearish market positioning seen in the options market," he said.
Hugo Renaudin, CEO and co-founder of LGO, summed these comments up nicely, stating that "cash is still king, and when the uncertainty on future prospects rise, investors favor cash over 'risky' assets."
"This happens across any market from equity to bitcoin: when markets go down, correlation goes to one."
Technical Factors
While the aforementioned analysts primarily focused on factors like a decline in equities and a flight to cash helping fuel losses in bitcoin, analyst Marouane Garçon spoke to technical factors.
"This tends to be the norm whenever Bitcoin gets close to $10,000," he stated.
"It's a very strong resistance. I was expecting this."
Disclosure: I own some bitcoin, bitcoin cash, litecoin, ether and EOS.
Source: www.forbes.com
Author: Charles Bovaird