Les révélations de Microsoft sur l'évolution des dépenses technologiques des entreprises en 2023 retiendront l'attention, comme le rapporte le géant du logiciel mardi après-midi.
Parmi les analystes interrogés par FactSet, le consensus est que Microsoft annonce un chiffre d'affaires de 52,99 milliards de dollars (en hausse de 2,4 % par an) pour le trimestre de décembre (deuxième trimestre fiscal ) et un BPA de 2,29 $ (en baisse de 7,5 %).
Microsoft partage ses prévisions de ventes trimestrielles pour ses segments de reporting lors de son appel aux résultats . Pour le trimestre de mars, le consensus sur les revenus de la société s'élève à 52,42 milliards de dollars (en hausse de 6,2%).
Eric Jhonsa, chroniqueur technique de Real Money, publiera en direct le rapport sur les résultats de Microsoft, ainsi qu'une conférence téléphonique prévue à 17h30, heure de l'Est.
Veuillez actualiser votre navigateur pour les mises à jour.
18 h 41 HE : Suite à quelques problèmes techniques lors de la dernière question (il s'agissait de rampes Azure chez de gros clients), l'appel de Microsoft a pris fin.
Les actions sont actuellement en baisse de 0,7% après les heures normales de bureau à 240,25 $. Ils ont initialement échangé des bénéfices post-bénéfices plus élevés après que Microsoft ait rapporté des chiffres assez bons pour bon nombre de ses activités centrées sur l'entreprise, mais ont restitué leurs gains après que la société a révélé lors de son appel qu'elle avait vu les tendances commerciales s'adoucir en décembre et guidé pour ses segments de reporting à collectivement afficher des revenus FQ3 de 50,5 milliards de dollars à 51,5 milliards de dollars, en dessous d'un consensus de 52,42 milliards de dollars. Une grande partie du manque à gagner provient du segment More Personal Computing, qui reste sous la pression de la faible demande de PC.
Les revenus d'Azure ont augmenté de 38 % sur un an en monnaie constante au deuxième trimestre, Microsoft prévoyant un ralentissement séquentiel de la croissance de 4 à 5 points au troisième trimestre. Les réservations commerciales ont augmenté de 7 % en glissement annuel, Microsoft guidant une croissance à peu près stable des réservations au troisième trimestre dans un contexte de concurrence difficile.
Merci de vous joindre a nous.
Correction : Microsoft s'attend à ce que la croissance des revenus d'Azure en devise constante ralentisse de 4 à 5 points par rapport à son taux de sortie à la fin du trimestre de décembre, qui se situerait au milieu des années 30, plutôt qu'à partir d'un trimestre complet taux de 38 %.
18 h 27 HE : Une question sur la croissance d'Office 365 : dans quelle mesure la croissance du nombre de sièges est-elle motivée par la croissance de l'ARPU ?
Hood affirme que Microsoft connaît une croissance du nombre de sièges bonne mais modérée, et que la croissance de l'ARPU reste forte grâce à l'adoption du plan E5.
Nadella ajoute que d'autres plates-formes logicielles "par utilisateur" telles que Viva et Power connaissent une forte croissance.
18 h 24 HE : Une question pour savoir si Microsoft peut toujours respecter les prévisions antérieures pour une croissance à deux chiffres des revenus de l'exercice 23.
Hood ne réitère pas le guide. Dit Microsoft continue de surveiller le marché des PC pour des signes d'amélioration. Ajoute que les efforts de l'entreprise pour réduire les coûts limitent la baisse de la marge d'exploitation dans un contexte de pressions sur le chiffre d'affaires.
18 h 19 HE : Nadella affirme que l'utilisation/l'engagement pour divers produits Microsoft continue de connaître une forte croissance dans un contexte de ralentissement de l'activité commerciale.
Hood ajoute que Microsoft est souvent encore une bonne demande pour les suites de produits, mais plus de pressions pour les ventes de produits autonomes.
18 h 17 HE : Microsoft est maintenant proche de AH plat, alors que les investisseurs assimilent les conseils de la société pour le troisième trimestre et demandent des commentaires.
18 h 15 HE : Une question sur l'environnement des dépenses informatiques aux États-Unis.
Nadella dit que ses commentaires sur l'environnement des dépenses concernaient les dépenses mondiales. Microsoft s'attend toujours à ce que les dépenses informatiques continuent de croître en % du PIB , même s'il constate une certaine prudence et des efforts pour « optimiser » les dépenses technologiques à court terme.
18 h 12 HE : La première question concerne l'accord OpenAI et son impact sur le chiffre d'affaires.
Nadella affirme que Microsoft pense que l'IA sera "la prochaine grande vague de plateformes" et cherche à l'intégrer dans ses solutions. Met en évidence les services actuels basés sur l'IA pour la plate-forme Power, GitHub, etc.
18 h 08 HE : la session de questions-réponses commence. Les actions sont maintenant en hausse de 1,9% AH.
18 h 08 HE : Les dépenses d'exploitation devraient augmenter de 11 à 12 % sur un an au troisième trimestre.
Regarding the second half of fiscal 2023, Hood says Microsoft expects decelerating revenue growth relative to the first half. Opex growth is expected to drop to the low single digits in the June quarter. Higher energy costs are now expected to be a smaller headwind than previously expected.
6:05 PM ET: FQ3 segment guidance:
Productivity & Business Processes – $16.9B-17.2B vs. a $16.94B consensus
Intelligent Cloud – $21.7B-$22B vs. a $22.19B consensus
More Personal Computing – $11.9B-$12.3B vs. a $13.43B consensus
Constant-currency Azure revenue growth is expected to decelerate by 4 to 5 points Q/Q. Windows OEM revenue is expected to be down by a mid-30s percentage.
Shares are up 2.9% AH.
6:00 PM ET: Forex is expected lower revenue growth by 3 points and opex growth by 2 points in FQ3 (less than in FQ2).
5:58 PM ET: The Xandr acquisition provided a 6-point boost to search and news ad revenue, which was up 10% in dollars and 15% in CC.
5:57 PM ET: Hood says Devices revenue (down 39% Y/Y) was hurt by "execution challenges" related to new product launches.
5:55 PM ET: Hood says Microsoft exited FQ2 with constant-currency Azure growth in the mid-30s (compares with 38% growth for the full quarter).
5:53 PM ET: Hood is now going over Microsoft's FQ2 segment performance. Notes Office commercial sales continue benefiting from seat growth among SMBs and frontline workers, and from greater enterprise adoption of costlier E5 plans.
5:50 PM ET: Hood recaps Microsoft's FQ2 performance. Notes there was some weakening of business in December, with moderating Azure consumption.
Microsoft has trimmed its AH gains a bit on those remarks: Shares are now up 3.3% AH.
5:48 PM ET: Amy Hood is now talking.
5:48 PM ET: Gaming monthly active users topped 120M.
5:46 PM ET: LinkedIn is said to now have over 900M registered users. Users for the Start feed are said to be up over 30% Y/Y.
5:44 PM ET: Nadella says (amid weak PC demand) time spent per Windows PC remains up 10% relative to pre-pandemic levels. Also says the Azure Virtual Desktop service is seeing strong growth.
5:42 PM ET: Nadella says Teams now has more than 280M monthly active users, while asserting the platform is taking share across every category it participates in. Teams Phone is said to have added more than 5M PSTN seats over the last 12 months.
5:39 PM ET: Power Automate customers are up over 50% Y/Y.
5:38 PM ET: GitHub is said to now be home to more than 100M developers. More than 1M people have used the GitHub Copilot (AI-based code generation) service.
5:37 PM ET: Nadella asserts (following the OpenAI deal) Microsoft has the most powerful cloud-based supercomputer infrastructure for AI workloads. Says Azure ML revenue has risen over 100% Y/Y for 5 quarters in a row.
5:35 PM ET: Nadella says twice as many CPU cores are run on Azure as were run two years ago, and that the Azure Arc hybrid cloud service now has 12K customers (up 2x Y/Y).
5:34 PM ET: Nadella says firms are now "optimizing" their spend after accelerating it during the pandemic, and are exercising caution in an uncertain environment.
5:33 PM ET: Satya Nadella is talking.
5:31 PM ET: The call is starting. Microsoft is going over its safe-harbor statement.
5:28 PM ET: Microsoft's call typically features prepared remarks from CEO Satya Nadella and CFO Amy Hood, after which the execs take questions from analysts. Guidance is shared by Hood towards the end of her prepared remarks.
5:26 PM ET: Hi, I'm back to cover Microsoft's call. Here's the webcast link, for those wanting to tune in.
4:53 PM ET: I'm taking a short break, but will be back to cover Microsoft's earnings call, which is set to kick off at 5:30 PM ET and will include the sharing of the company's quarterly sales guidance.
Shares are up 4.1% AH to $251.90 after Microsoft posted mixed FQ2 results (revenue slightly missed, EPS slightly beat), while reporting 7% commercial bookings growth and 29% commercial RPO (contract backlog) growth.
4:48 PM ET: One other bright spot: Dynamics 365 business app revenue was up 21% in dollars and 29% in CC, as the platform continues taking share among SMBs and midmarket firms. Total Dynamics revenue was up 13% in dollars and 20% in CC.
4:41 PM ET: The Office 365 installed base keeps steadily growing. Office 365 commercial seats were up 12% Y/Y, and Microsoft 365 consumer subs were up 1.9M Q/Q and 6.8M Y/Y to 63.2M.
4:39 PM ET: Free cash flow was down 43% Y/Y to $4.9B, with Microsoft noting it would've been down 16% if not for a one-time tax payment. The company ended FQ2 with $99.5B in cash/equivalents and $48.1B in debt.
4:35 PM ET: $4.6B was spent on stock buybacks in FQ2, even with FQ1.
4:31 PM ET: As a reminder, Microsoft's quarterly sales guide, which tends to have a big impact on how its stock trades the next day, isn't in the earnings report. It'll be shared on the call.
4:29 PM ET: The segment breakdown helps explain why Microsoft is higher post-earnings in spite of a slight revenue miss: The miss was caused by More Personal Computing, which is dominated by PC and consumer-centric businesses that were known to be weak. The two segments dominated by sales of software and cloud services to businesses beat estimates.
4:26 PM ET: FQ2 revenue by business segment:
Productivity & Business Processes (Office, Dynamics, LinkedIn) – $17B, +7% Y/Y and above a $16.79B consensus
Intelligent Cloud (Azure, server software) – $21.51B, +18% and above a $21.43B consensus
More Personal Computing (Windows, Xbox, Surface, ads) – $14.24B, -19% and below a $14.76B consensus.
4:23 PM ET: $6.8B was spent on capex in FQ2, compared with $6.6B in FQ1 and $7.4B a year earlier.
4:21 PM ET: Weighing on EPS some: While revenue grew 2%, Microsoft's operating expenses were up 19% Y/Y on a GAAP basis to $14.9B, and 11% excluding one-time charges.
With Microsoft having slowed down hiring and just announced layoffs, opex growth will likely slow in the coming quarters.
4:16 PM ET: Dollar-based and CC revenue growth for various Microsoft businesses. As the numbers show, forex was a big headwind across the board, and big declines in Windows OEM, Devices (Surface, Xbox, etc.) and to a lesser extent Xbox content/services revenue also weighed on the top line.
On the other hand, Azure, Dynamics, LinkedIn, search/news ads, and server products and cloud services recorded double-digit growth, and Office Commercial grew 7%.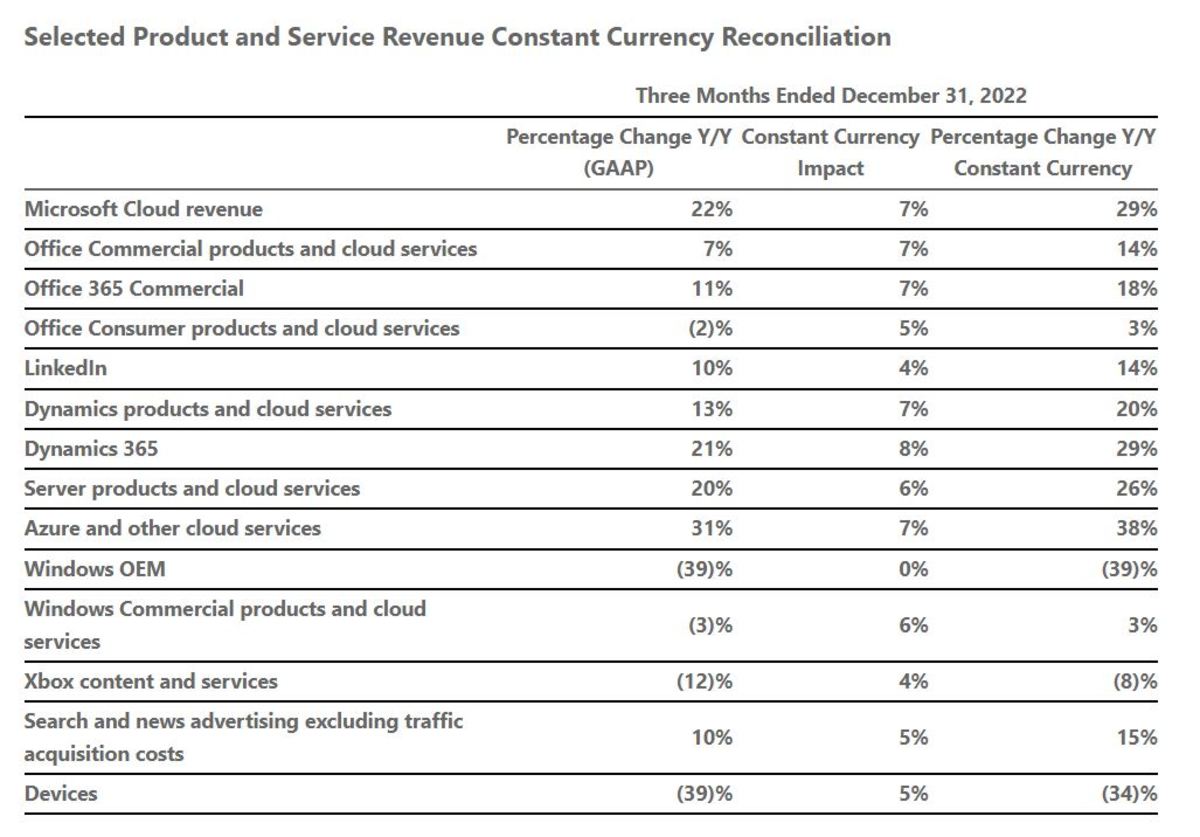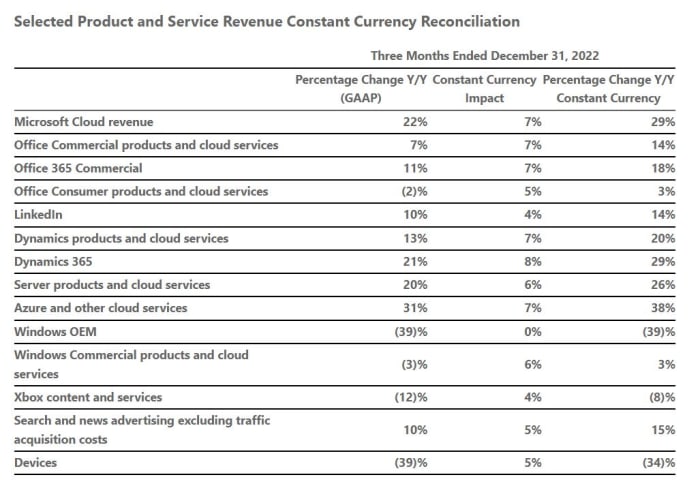 4:09 PM ET: Shares are holding onto their gains: They're now up 4.9% AH to $254.00. Here's the FQ2 report, for those wanting to take a look.
4:08 PM ET: Commercial bookings were up 7% Y/Y in dollars and 4% in constant currency. With bookings up 32% in dollars and 37% in CC a year ago, Microsoft was facing a tough annual comp.
Notably, Microsoft's commercial RPO (contract backlog) was up 29% in dollars and 26% in CC to $189B.
4:05 PM ET: Revenue rose 2% Y/Y in dollars and 7% in constant currency.
Azure revenue rose 31% in dollars and 38% in CC, slightly topping CC guidance of 37%.
4:04 PM ET: GAAP EPS, which bakes in $0.12/share of "severance, hardware-related impairment, and lease consolidation costs," was $2.20.
4:02 PM ET: Results are out. FQ2 revenue of $52.75B slightly misses a $52.99B consensus. Adjusted EPS of $2.32 beats a $2.29 consensus.
Shares are up 4.1% after-hours.
4:00 PM ET: Microsoft's stock closed down 0.2% to $242.04. The FQ2 report should be out shortly.
3:57 PM ET: As usual, Microsoft's Azure revenue growth will be closely watched. In October, Microsoft guided for constant-currency Azure growth (42% in FQ1) to drop about 5 points sequentially.
3:51 PM ET: The FactSet consensus is for FQ2 revenue of $52.99B and EPS of $2.29.
Avec les budgets informatiques de 2023 en cours de définition, une grande attention sera probablement accordée au guide des revenus de Microsoft (le consensus sur les revenus du FQ3 est de 52,42 milliards de dollars), ainsi qu'à la croissance de ses réservations commerciales et à des commentaires généraux sur les tendances des dépenses des entreprises.
15h47 HE : Salut, c'est Eric Jhonsa. Je vais bloguer en direct sur le rapport sur les revenus de Microsoft et appeler.
Eric Jhonsa, chroniqueur technique de Real Money, publiera en direct le rapport sur les résultats de Microsoft, ainsi qu'une conférence téléphonique prévue à 17h30, heure de l'Est.
Source: https://www.thestreet.com/investing/microsoft-second-quarter-fiscal-2023-earnings-live-blog