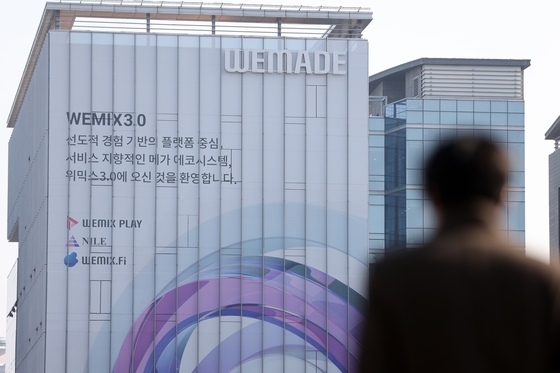 Wemade's headquarters in Seongnam, Gyeonggi, on Friday [NEWS1]
The Financial Supervisory Service (FSS) is reviewing the regulations for delisting cryptocurrencies.
The review follows a Thursday announcement by the Digital Asset eXchange Alliance (DAXA), a trade group representing five Korean virtual asset exchanges, that the Wemix cryptocurrency from game company Wemade was being delisted.
The five exchanges — Upbit, Bithumb, Coinone, Korbit and Gopax — will stop the trading of Wemix coins from Dec. 8 at 3 p.m. Owners will be able to cash in their accounts for a month after trading ends.
DAXA announced that Wemade provided false information regarding the number of tokens that the company plans to release in the market. Wemade responded that DAXA, and especially Upbit, never gave it clear guidelines on what data needed to be submitted and how the numbers were to be calculated.
Because there is no crypto law in Korea, financial authorities like the FSS can not get involved in individual cases such as the Wemix delisting. The review is therefore a comprehensive one regarding all virtual asset listing rules, according to the FSS.
"We will look into whether any legislative improvements can be made, especially since conflicting arguments are being made from the two sides," an FSS official said.
"There are no laws regarding the listing and delisting of coins, so we will focus on any suggestions that could be made to future legislation or to DAXA."
DAXA was established in June after the local crypto market took a huge blow from the Terra-Luna collapse earlier this year and after an agreement between financial authorities and the exchange services. The alliance started enforcing a set of trading guidelines on Oct. 10, which gave DAXA the right to decide which crypto will be listed or delisted.
Listed companies are regulated by the Korea Exchange (KRX). In the case of wrongdoing, KRX gives companies penalty points based on the gravity of the wrongdoing and takes measures when they've exceeded a certain level. When a company is given a warning, it is allowed to respond and appeal any decision.
The decision to delist Wemix was made by four DAXA members, officials from the crypto exchanges that are members of DAXA, with only suggestions made by outside professionals. Wemade argues that DAXA's decision was arbitrary and unfair.
Wemade said Saturday that it will file a complaint about DAXA to the Fair Trade Commission (FTC) accusing it of collusion.
"We believe it is illegal for businesses that take up 100 percent share of a market to collude and decide whether or not to list a cryptocurrency," a Wemade official said. "We were told that DAXA members were divided over whether or not to delist Wemix, and it should be illegal to force an opinion."
The FSS's move comes a week after the Financial Services Commission (FSC) began a probe into virtual asset exchanges to examine whether they were listing their own coins, following the failed FTX crypto exchange that filed for bankruptcy in the United States on Nov. 11.
Domestic crypto exchanges are not allowed to issue or list their own native tokens, but a Daegu-based crypto exchange Flata Exchange is believed to have listed its native coin Flat in January 2020.
Wemix tokens were being traded at 700 won ($0.52) as of Sunday afternoon, down 95 percent from last November.