Le rivelazioni di Microsoft su come si sta formando la spesa tecnologica aziendale nel 2023 riceveranno molta attenzione come riferisce il gigante del software martedì pomeriggio.
Tra gli analisti intervistati da FactSet, il consenso è che Microsoft riporti un fatturato del trimestre di dicembre (secondo trimestre fiscale) di $ 52,99 miliardi (+ 2,4% annuo) e un utile per azione di $ 2,29 (in calo del 7,5%).
Microsoft condivide le linee guida sulle vendite trimestrali per i suoi segmenti di reporting sulla sua chiamata agli utili . Per il trimestre di marzo, il consenso sui ricavi dell'azienda si attesta a 52,42 miliardi di dollari (+6,2%).
Eric Jhonsa, editorialista tecnologico di Real Money, pubblicherà in diretta il rapporto sugli utili di Microsoft, insieme a una teleconferenza programmata per le 17:30, ora di New York.
Si prega di aggiornare il browser per gli aggiornamenti.
18:41 ET: A seguito di alcuni problemi tecnici durante l'ultima domanda (riguardava le rampe di Azure presso grandi clienti), la chiamata di Microsoft è stata interrotta.
Le azioni sono attualmente in calo dello 0,7% dopo l'orario di chiusura a $ 240,25. Inizialmente hanno scambiato guadagni post-utili più alti dopo che Microsoft ha riportato numeri abbastanza buoni per molte delle sue attività incentrate sulle imprese, ma hanno restituito i loro guadagni dopo che la società ha rivelato durante la sua chiamata di aver visto un indebolimento delle tendenze commerciali a dicembre e ha guidato i suoi segmenti di reporting a collettivamente post entrate FQ3 di $ 50,5 miliardi – $ 51,5 miliardi, al di sotto di un consenso di $ 52,42 miliardi. Gran parte del deficit deriva dal segmento More Personal Computing, che rimane sotto pressione a causa della debole domanda di PC.
I ricavi di Azure sono aumentati del 38% su base annua in valuta costante nel secondo trimestre, con Microsoft che prevede un rallentamento sequenziale della crescita da 4 a 5 punti nel terzo trimestre. Le prenotazioni commerciali sono aumentate del 7% su base annua, con Microsoft che guida per una crescita delle prenotazioni FQ3 approssimativamente piatta in mezzo a gare difficili.
Grazie per esserti unito a noi.
Correzione: Microsoft prevede che la crescita dei ricavi di Azure a valuta costante rallenterà di 4-5 punti rispetto al suo tasso di uscita alla fine del trimestre di dicembre, che si diceva fosse a metà degli anni '30, piuttosto che da un intero trimestre aliquota del 38%.
18:27 ET: una domanda sulla crescita di Office 365: quanto è guidato dalla crescita dei posti rispetto alla crescita dell'ARPU?
Hood afferma che Microsoft sta assistendo a una crescita dei posti buona ma moderata e che la crescita dell'ARPU rimane forte grazie all'adozione del piano E5.
Nadella aggiunge che altre piattaforme software "per utente" come Viva e Power stanno registrando una forte crescita.
18:24 ET: una domanda sul fatto che Microsoft possa ancora soddisfare le indicazioni precedenti per la crescita dei ricavi a due cifre nell'anno fiscale 2023.
Hood non ribadisce la guida. Dice che Microsoft continua a guardare il mercato dei PC per segnali di miglioramento. Aggiunge che gli sforzi dell'azienda per tagliare i costi stanno limitando il calo del margine operativo a causa delle pressioni sulla top line.
18:19 ET: Nadella afferma che l'utilizzo/l'impegno per vari prodotti Microsoft continua a registrare una forte crescita in un'attività di negoziazione più lenta.
Hood aggiunge che Microsoft ha spesso ancora una buona domanda di suite di prodotti, ma maggiori pressioni sugli accordi per le vendite di prodotti autonomi.
18:17 ET: Microsoft è ora vicina a un AH piatto, poiché gli investitori digeriscono la guida FQ3 della società e i commenti sulla domanda.
18:15 ET: una domanda sull'ambiente di spesa IT negli Stati Uniti.
Nadella afferma che i suoi commenti sull'ambiente di spesa riguardavano la spesa globale. Ribadisce che Microsoft si aspetta ancora che la spesa IT continui a crescere come % del PIL , anche se vede una certa cautela e gli sforzi per "ottimizzare" la spesa tecnologica a breve termine.
18:12 ET: La prima domanda riguarda l'affare OpenAI e il suo impatto sui massimi.
Nadella afferma che Microsoft pensa che l'intelligenza artificiale sarà "la prossima grande ondata di piattaforme" e sta cercando di integrarla nelle sue soluzioni. Evidenzia gli attuali servizi basati sull'intelligenza artificiale per la piattaforma Power, GitHub, ecc.
18:08 ET: la sessione di domande e risposte sta iniziando. Le azioni sono ora aumentate dell'1,9% AH.
18:08 ET: le spese operative dovrebbero aumentare dell'11-12% a/a nel terzo trimestre.
Regarding the second half of fiscal 2023, Hood says Microsoft expects decelerating revenue growth relative to the first half. Opex growth is expected to drop to the low single digits in the June quarter. Higher energy costs are now expected to be a smaller headwind than previously expected.
6:05 PM ET: FQ3 segment guidance:
Productivity & Business Processes – $16.9B-17.2B vs. a $16.94B consensus
Intelligent Cloud – $21.7B-$22B vs. a $22.19B consensus
More Personal Computing – $11.9B-$12.3B vs. a $13.43B consensus
Constant-currency Azure revenue growth is expected to decelerate by 4 to 5 points Q/Q. Windows OEM revenue is expected to be down by a mid-30s percentage.
Shares are up 2.9% AH.
6:00 PM ET: Forex is expected lower revenue growth by 3 points and opex growth by 2 points in FQ3 (less than in FQ2).
5:58 PM ET: The Xandr acquisition provided a 6-point boost to search and news ad revenue, which was up 10% in dollars and 15% in CC.
5:57 PM ET: Hood says Devices revenue (down 39% Y/Y) was hurt by "execution challenges" related to new product launches.
5:55 PM ET: Hood says Microsoft exited FQ2 with constant-currency Azure growth in the mid-30s (compares with 38% growth for the full quarter).
5:53 PM ET: Hood is now going over Microsoft's FQ2 segment performance. Notes Office commercial sales continue benefiting from seat growth among SMBs and frontline workers, and from greater enterprise adoption of costlier E5 plans.
5:50 PM ET: Hood recaps Microsoft's FQ2 performance. Notes there was some weakening of business in December, with moderating Azure consumption.
Microsoft has trimmed its AH gains a bit on those remarks: Shares are now up 3.3% AH.
5:48 PM ET: Amy Hood is now talking.
5:48 PM ET: Gaming monthly active users topped 120M.
5:46 PM ET: LinkedIn is said to now have over 900M registered users. Users for the Start feed are said to be up over 30% Y/Y.
5:44 PM ET: Nadella says (amid weak PC demand) time spent per Windows PC remains up 10% relative to pre-pandemic levels. Also says the Azure Virtual Desktop service is seeing strong growth.
5:42 PM ET: Nadella says Teams now has more than 280M monthly active users, while asserting the platform is taking share across every category it participates in. Teams Phone is said to have added more than 5M PSTN seats over the last 12 months.
5:39 PM ET: Power Automate customers are up over 50% Y/Y.
5:38 PM ET: GitHub is said to now be home to more than 100M developers. More than 1M people have used the GitHub Copilot (AI-based code generation) service.
5:37 PM ET: Nadella asserts (following the OpenAI deal) Microsoft has the most powerful cloud-based supercomputer infrastructure for AI workloads. Says Azure ML revenue has risen over 100% Y/Y for 5 quarters in a row.
5:35 PM ET: Nadella says twice as many CPU cores are run on Azure as were run two years ago, and that the Azure Arc hybrid cloud service now has 12K customers (up 2x Y/Y).
5:34 PM ET: Nadella says firms are now "optimizing" their spend after accelerating it during the pandemic, and are exercising caution in an uncertain environment.
5:33 PM ET: Satya Nadella is talking.
5:31 PM ET: The call is starting. Microsoft is going over its safe-harbor statement.
5:28 PM ET: Microsoft's call typically features prepared remarks from CEO Satya Nadella and CFO Amy Hood, after which the execs take questions from analysts. Guidance is shared by Hood towards the end of her prepared remarks.
5:26 PM ET: Hi, I'm back to cover Microsoft's call. Here's the webcast link, for those wanting to tune in.
4:53 PM ET: I'm taking a short break, but will be back to cover Microsoft's earnings call, which is set to kick off at 5:30 PM ET and will include the sharing of the company's quarterly sales guidance.
Shares are up 4.1% AH to $251.90 after Microsoft posted mixed FQ2 results (revenue slightly missed, EPS slightly beat), while reporting 7% commercial bookings growth and 29% commercial RPO (contract backlog) growth.
4:48 PM ET: One other bright spot: Dynamics 365 business app revenue was up 21% in dollars and 29% in CC, as the platform continues taking share among SMBs and midmarket firms. Total Dynamics revenue was up 13% in dollars and 20% in CC.
4:41 PM ET: The Office 365 installed base keeps steadily growing. Office 365 commercial seats were up 12% Y/Y, and Microsoft 365 consumer subs were up 1.9M Q/Q and 6.8M Y/Y to 63.2M.
4:39 PM ET: Free cash flow was down 43% Y/Y to $4.9B, with Microsoft noting it would've been down 16% if not for a one-time tax payment. The company ended FQ2 with $99.5B in cash/equivalents and $48.1B in debt.
4:35 PM ET: $4.6B was spent on stock buybacks in FQ2, even with FQ1.
4:31 PM ET: As a reminder, Microsoft's quarterly sales guide, which tends to have a big impact on how its stock trades the next day, isn't in the earnings report. It'll be shared on the call.
4:29 PM ET: The segment breakdown helps explain why Microsoft is higher post-earnings in spite of a slight revenue miss: The miss was caused by More Personal Computing, which is dominated by PC and consumer-centric businesses that were known to be weak. The two segments dominated by sales of software and cloud services to businesses beat estimates.
4:26 PM ET: FQ2 revenue by business segment:
Productivity & Business Processes (Office, Dynamics, LinkedIn) – $17B, +7% Y/Y and above a $16.79B consensus
Intelligent Cloud (Azure, server software) – $21.51B, +18% and above a $21.43B consensus
More Personal Computing (Windows, Xbox, Surface, ads) – $14.24B, -19% and below a $14.76B consensus.
4:23 PM ET: $6.8B was spent on capex in FQ2, compared with $6.6B in FQ1 and $7.4B a year earlier.
4:21 PM ET: Weighing on EPS some: While revenue grew 2%, Microsoft's operating expenses were up 19% Y/Y on a GAAP basis to $14.9B, and 11% excluding one-time charges.
With Microsoft having slowed down hiring and just announced layoffs, opex growth will likely slow in the coming quarters.
4:16 PM ET: Dollar-based and CC revenue growth for various Microsoft businesses. As the numbers show, forex was a big headwind across the board, and big declines in Windows OEM, Devices (Surface, Xbox, etc.) and to a lesser extent Xbox content/services revenue also weighed on the top line.
On the other hand, Azure, Dynamics, LinkedIn, search/news ads, and server products and cloud services recorded double-digit growth, and Office Commercial grew 7%.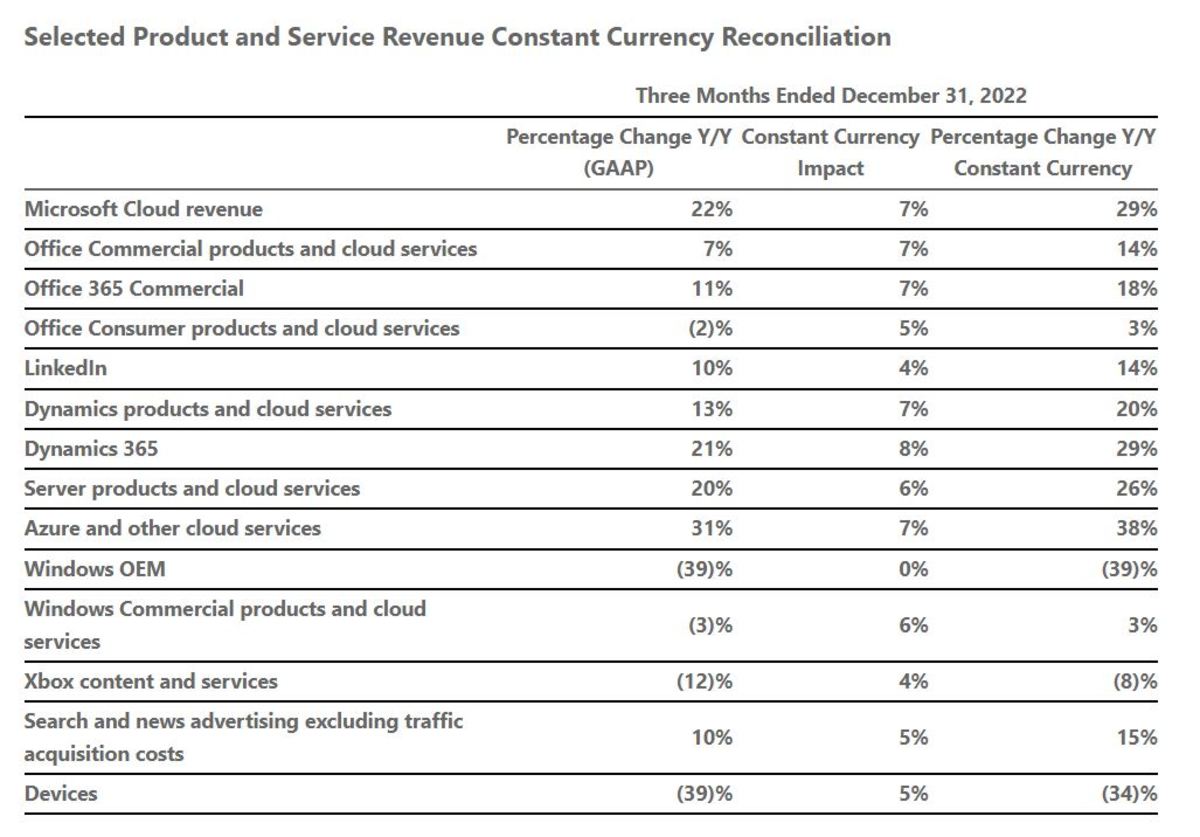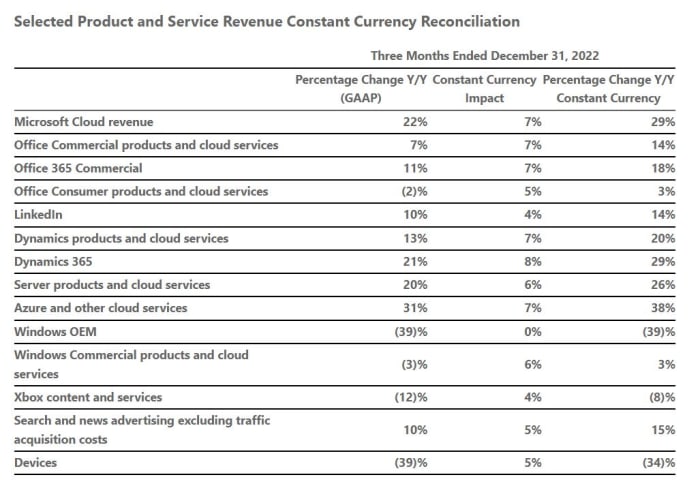 4:09 PM ET: Shares are holding onto their gains: They're now up 4.9% AH to $254.00. Here's the FQ2 report, for those wanting to take a look.
4:08 PM ET: Commercial bookings were up 7% Y/Y in dollars and 4% in constant currency. With bookings up 32% in dollars and 37% in CC a year ago, Microsoft was facing a tough annual comp.
Notably, Microsoft's commercial RPO (contract backlog) was up 29% in dollars and 26% in CC to $189B.
4:05 PM ET: Revenue rose 2% Y/Y in dollars and 7% in constant currency.
Azure revenue rose 31% in dollars and 38% in CC, slightly topping CC guidance of 37%.
4:04 PM ET: GAAP EPS, which bakes in $0.12/share of "severance, hardware-related impairment, and lease consolidation costs," was $2.20.
4:02 PM ET: Results are out. FQ2 revenue of $52.75B slightly misses a $52.99B consensus. Adjusted EPS of $2.32 beats a $2.29 consensus.
Shares are up 4.1% after-hours.
4:00 PM ET: Microsoft's stock closed down 0.2% to $242.04. The FQ2 report should be out shortly.
3:57 PM ET: As usual, Microsoft's Azure revenue growth will be closely watched. In October, Microsoft guided for constant-currency Azure growth (42% in FQ1) to drop about 5 points sequentially.
3:51 PM ET: The FactSet consensus is for FQ2 revenue of $52.99B and EPS of $2.29.
Con i budget IT per il 2023 che vengono definiti in questo momento, sarà probabilmente prestata molta attenzione alla guida alle entrate di Microsoft (il consenso alle entrate FQ3 è di $ 52,42 miliardi), insieme alla crescita delle prenotazioni commerciali e ai commenti generali sulle tendenze della spesa aziendale.
15:47 ET: Ciao, sono Eric Jhonsa. Pubblicherò dal vivo il rapporto sugli utili di Microsoft e chiamerò.
Eric Jhonsa, editorialista tecnologico di Real Money, pubblicherà in diretta il rapporto sugli utili di Microsoft, insieme a una teleconferenza programmata per le 17:30, ora di New York.
Source: https://www.thestreet.com/investing/microsoft-second-quarter-fiscal-2023-earnings-live-blog