As divulgações da Microsoft sobre como os gastos corporativos com tecnologia estão se moldando em 2023 receberão muita atenção, conforme a gigante do software relata na tarde de terça-feira.
Entre os analistas consultados pela FactSet, o consenso é que a Microsoft reporte receita no trimestre de dezembro (segundo trimestre fiscal) de US$ 52,99 bilhões (aumento de 2,4% ao ano) e EPS de US$ 2,29 (queda de 7,5%).
A Microsoft compartilha orientação de vendas trimestrais para seus segmentos de relatórios em sua teleconferência de resultados . Para o trimestre de março, o consenso de receita da empresa é de US$ 52,42 bilhões (aumento de 6,2%).
Eric Jhonsa, colunista de tecnologia da Real Money, fará um blog ao vivo do relatório de lucros da Microsoft, junto com uma teleconferência agendada para as 17h30, horário do leste.
Atualize seu navegador para atualizações.
18:41 ET: Após alguns problemas técnicos durante a última pergunta (era sobre rampas do Azure em grandes clientes), a chamada da Microsoft foi encerrada.
As ações estão atualmente em queda de 0,7% após o expediente, para US$ 240,25. Eles inicialmente negociaram lucros pós-lucro mais altos depois que a Microsoft relatou números razoavelmente bons para muitos de seus negócios centrados na empresa, mas devolveram seus ganhos depois que a empresa divulgou em sua teleconferência que viu tendências de negócios mais brandas em dezembro e orientou seus segmentos de relatórios para coletivamente receita pós FQ3 de US$ 50,5 bilhões a US$ 51,5 bilhões, abaixo do consenso de US$ 52,42 bilhões. Grande parte do déficit decorre do segmento de Mais Computação Pessoal, que continua pressionado pela fraca demanda de PCs.
A receita do Azure aumentou 38% A/A em moeda constante no FQ2, com a Microsoft orientando para uma desaceleração sequencial de 4 a 5 pontos no crescimento no FQ3. As reservas comerciais aumentaram 7% em relação ao ano anterior, com a Microsoft orientando para um crescimento de reservas praticamente estável no terceiro trimestre em meio a duras comparações.
Obrigado por se juntar a nós.
Correção: a Microsoft espera que o crescimento da receita do Azure em moeda constante desacelere de 4 a 5 pontos em relação à sua taxa de saída no final do trimestre de dezembro, que foi considerado em meados dos anos 30, em vez de um trimestre inteiro taxa de 38%.
18:27 ET: Uma pergunta sobre o crescimento do Office 365: quanto está sendo impulsionado pelo crescimento do número de assentos em relação ao crescimento do ARPU?
Hood diz que a Microsoft está tendo um crescimento bom, mas moderado, e que o crescimento do ARPU continua forte graças à adoção do plano E5.
Nadella acrescenta que outras plataformas de software "por usuário", como Viva e Power, estão tendo um forte crescimento.
18:24 ET: Uma pergunta sobre se a Microsoft ainda pode atender às orientações anteriores de crescimento de receita de dois dígitos no ano fiscal de 23.
Hood não reitera o guia. Diz que a Microsoft continua observando o mercado de PCs em busca de sinais de melhora. Acrescenta que os esforços da empresa para cortar custos estão limitando o declínio da margem operacional em meio às pressões de receita.
18:19 ET: Nadella afirma que o uso/engajamento para vários produtos da Microsoft continua tendo um forte crescimento em meio a atividades de negócios mais lentas.
Hood acrescenta que a Microsoft geralmente ainda tem uma boa demanda por suítes de produtos, mas há mais pressões de negócios para vendas de produtos independentes.
18:17 ET: A Microsoft está agora perto do AH estável, enquanto os investidores digerem a orientação do FQ3 da empresa e exigem comentários.
18:15 ET: Uma pergunta sobre o ambiente de gastos com TI nos EUA.
Nadella diz que seus comentários sobre o ambiente de gastos foram sobre gastos globais. Reitera que a Microsoft ainda espera que os gastos com TI continuem crescendo como % do PIB , mesmo que veja alguma cautela e esforços para "otimizar" os gastos com tecnologia no curto prazo.
18:12 ET: A primeira pergunta é sobre o acordo da OpenAI e seu impacto na linha de frente.
Nadella afirma que a Microsoft acredita que a IA será "a próxima grande onda de plataforma" e está procurando integrá-la em suas soluções. Destaca os serviços atuais baseados em IA para a plataforma Power, GitHub, etc.
18:08 ET: A sessão de perguntas e respostas está começando. As ações agora sobem 1,9% AH.
18:08 ET: Espera-se que as despesas operacionais aumentem 11-12% A/A no terceiro trimestre.
Regarding the second half of fiscal 2023, Hood says Microsoft expects decelerating revenue growth relative to the first half. Opex growth is expected to drop to the low single digits in the June quarter. Higher energy costs are now expected to be a smaller headwind than previously expected.
6:05 PM ET: FQ3 segment guidance:
Productivity & Business Processes – $16.9B-17.2B vs. a $16.94B consensus
Intelligent Cloud – $21.7B-$22B vs. a $22.19B consensus
More Personal Computing – $11.9B-$12.3B vs. a $13.43B consensus
Constant-currency Azure revenue growth is expected to decelerate by 4 to 5 points Q/Q. Windows OEM revenue is expected to be down by a mid-30s percentage.
Shares are up 2.9% AH.
6:00 PM ET: Forex is expected lower revenue growth by 3 points and opex growth by 2 points in FQ3 (less than in FQ2).
5:58 PM ET: The Xandr acquisition provided a 6-point boost to search and news ad revenue, which was up 10% in dollars and 15% in CC.
5:57 PM ET: Hood says Devices revenue (down 39% Y/Y) was hurt by "execution challenges" related to new product launches.
5:55 PM ET: Hood says Microsoft exited FQ2 with constant-currency Azure growth in the mid-30s (compares with 38% growth for the full quarter).
5:53 PM ET: Hood is now going over Microsoft's FQ2 segment performance. Notes Office commercial sales continue benefiting from seat growth among SMBs and frontline workers, and from greater enterprise adoption of costlier E5 plans.
5:50 PM ET: Hood recaps Microsoft's FQ2 performance. Notes there was some weakening of business in December, with moderating Azure consumption.
Microsoft has trimmed its AH gains a bit on those remarks: Shares are now up 3.3% AH.
5:48 PM ET: Amy Hood is now talking.
5:48 PM ET: Gaming monthly active users topped 120M.
5:46 PM ET: LinkedIn is said to now have over 900M registered users. Users for the Start feed are said to be up over 30% Y/Y.
5:44 PM ET: Nadella says (amid weak PC demand) time spent per Windows PC remains up 10% relative to pre-pandemic levels. Also says the Azure Virtual Desktop service is seeing strong growth.
5:42 PM ET: Nadella says Teams now has more than 280M monthly active users, while asserting the platform is taking share across every category it participates in. Teams Phone is said to have added more than 5M PSTN seats over the last 12 months.
5:39 PM ET: Power Automate customers are up over 50% Y/Y.
5:38 PM ET: GitHub is said to now be home to more than 100M developers. More than 1M people have used the GitHub Copilot (AI-based code generation) service.
5:37 PM ET: Nadella asserts (following the OpenAI deal) Microsoft has the most powerful cloud-based supercomputer infrastructure for AI workloads. Says Azure ML revenue has risen over 100% Y/Y for 5 quarters in a row.
5:35 PM ET: Nadella says twice as many CPU cores are run on Azure as were run two years ago, and that the Azure Arc hybrid cloud service now has 12K customers (up 2x Y/Y).
5:34 PM ET: Nadella says firms are now "optimizing" their spend after accelerating it during the pandemic, and are exercising caution in an uncertain environment.
5:33 PM ET: Satya Nadella is talking.
5:31 PM ET: The call is starting. Microsoft is going over its safe-harbor statement.
5:28 PM ET: Microsoft's call typically features prepared remarks from CEO Satya Nadella and CFO Amy Hood, after which the execs take questions from analysts. Guidance is shared by Hood towards the end of her prepared remarks.
5:26 PM ET: Hi, I'm back to cover Microsoft's call. Here's the webcast link, for those wanting to tune in.
4:53 PM ET: I'm taking a short break, but will be back to cover Microsoft's earnings call, which is set to kick off at 5:30 PM ET and will include the sharing of the company's quarterly sales guidance.
Shares are up 4.1% AH to $251.90 after Microsoft posted mixed FQ2 results (revenue slightly missed, EPS slightly beat), while reporting 7% commercial bookings growth and 29% commercial RPO (contract backlog) growth.
4:48 PM ET: One other bright spot: Dynamics 365 business app revenue was up 21% in dollars and 29% in CC, as the platform continues taking share among SMBs and midmarket firms. Total Dynamics revenue was up 13% in dollars and 20% in CC.
4:41 PM ET: The Office 365 installed base keeps steadily growing. Office 365 commercial seats were up 12% Y/Y, and Microsoft 365 consumer subs were up 1.9M Q/Q and 6.8M Y/Y to 63.2M.
4:39 PM ET: Free cash flow was down 43% Y/Y to $4.9B, with Microsoft noting it would've been down 16% if not for a one-time tax payment. The company ended FQ2 with $99.5B in cash/equivalents and $48.1B in debt.
4:35 PM ET: $4.6B was spent on stock buybacks in FQ2, even with FQ1.
4:31 PM ET: As a reminder, Microsoft's quarterly sales guide, which tends to have a big impact on how its stock trades the next day, isn't in the earnings report. It'll be shared on the call.
4:29 PM ET: The segment breakdown helps explain why Microsoft is higher post-earnings in spite of a slight revenue miss: The miss was caused by More Personal Computing, which is dominated by PC and consumer-centric businesses that were known to be weak. The two segments dominated by sales of software and cloud services to businesses beat estimates.
4:26 PM ET: FQ2 revenue by business segment:
Productivity & Business Processes (Office, Dynamics, LinkedIn) – $17B, +7% Y/Y and above a $16.79B consensus
Intelligent Cloud (Azure, server software) – $21.51B, +18% and above a $21.43B consensus
More Personal Computing (Windows, Xbox, Surface, ads) – $14.24B, -19% and below a $14.76B consensus.
4:23 PM ET: $6.8B was spent on capex in FQ2, compared with $6.6B in FQ1 and $7.4B a year earlier.
4:21 PM ET: Weighing on EPS some: While revenue grew 2%, Microsoft's operating expenses were up 19% Y/Y on a GAAP basis to $14.9B, and 11% excluding one-time charges.
With Microsoft having slowed down hiring and just announced layoffs, opex growth will likely slow in the coming quarters.
4:16 PM ET: Dollar-based and CC revenue growth for various Microsoft businesses. As the numbers show, forex was a big headwind across the board, and big declines in Windows OEM, Devices (Surface, Xbox, etc.) and to a lesser extent Xbox content/services revenue also weighed on the top line.
On the other hand, Azure, Dynamics, LinkedIn, search/news ads, and server products and cloud services recorded double-digit growth, and Office Commercial grew 7%.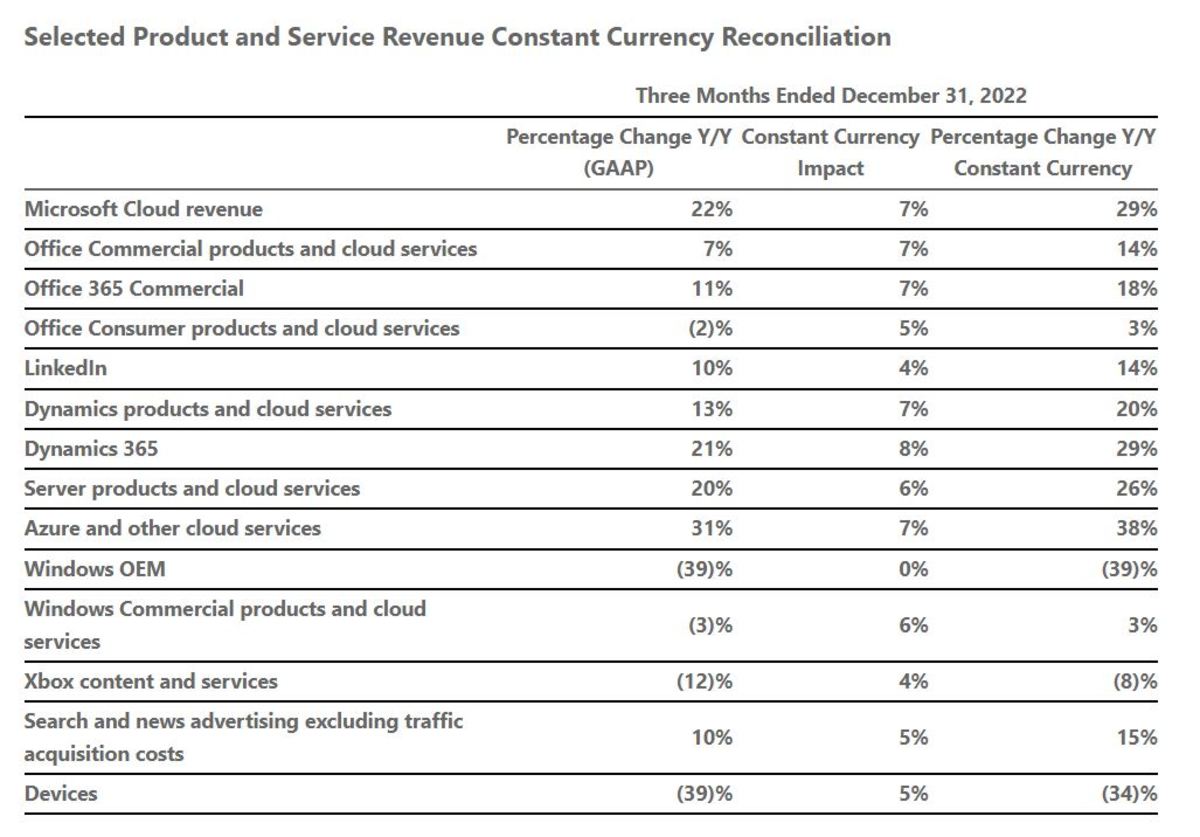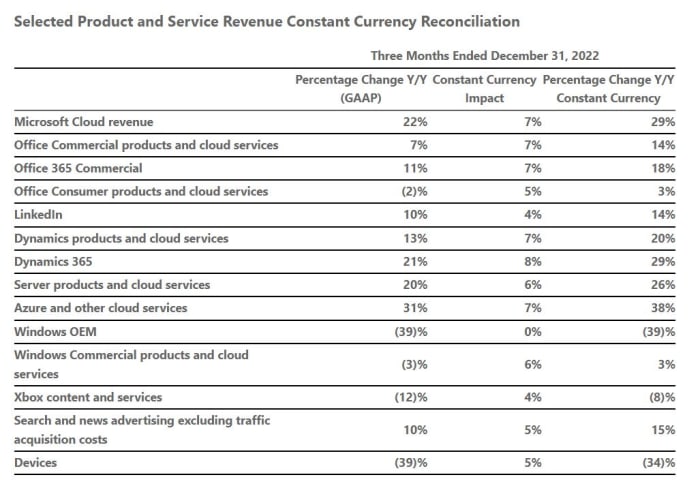 4:09 PM ET: Shares are holding onto their gains: They're now up 4.9% AH to $254.00. Here's the FQ2 report, for those wanting to take a look.
4:08 PM ET: Commercial bookings were up 7% Y/Y in dollars and 4% in constant currency. With bookings up 32% in dollars and 37% in CC a year ago, Microsoft was facing a tough annual comp.
Notably, Microsoft's commercial RPO (contract backlog) was up 29% in dollars and 26% in CC to $189B.
4:05 PM ET: Revenue rose 2% Y/Y in dollars and 7% in constant currency.
Azure revenue rose 31% in dollars and 38% in CC, slightly topping CC guidance of 37%.
4:04 PM ET: GAAP EPS, which bakes in $0.12/share of "severance, hardware-related impairment, and lease consolidation costs," was $2.20.
4:02 PM ET: Results are out. FQ2 revenue of $52.75B slightly misses a $52.99B consensus. Adjusted EPS of $2.32 beats a $2.29 consensus.
Shares are up 4.1% after-hours.
4:00 PM ET: Microsoft's stock closed down 0.2% to $242.04. The FQ2 report should be out shortly.
3:57 PM ET: As usual, Microsoft's Azure revenue growth will be closely watched. In October, Microsoft guided for constant-currency Azure growth (42% in FQ1) to drop about 5 points sequentially.
3:51 PM ET: The FactSet consensus is for FQ2 revenue of $52.99B and EPS of $2.29.
Com os orçamentos de TI para 2023 sendo definidos agora, muita atenção provavelmente será dada ao guia de receita da Microsoft (o consenso de receita do FQ3 é de $ 52,42 bilhões), juntamente com o crescimento de suas reservas comerciais e comentários gerais sobre as tendências de gastos corporativos.
15:47 ET: Olá, aqui é Eric Jhonsa. Estarei postando ao vivo o relatório de ganhos da Microsoft e a ligação.
Eric Jhonsa, colunista de tecnologia da Real Money, fará um blog ao vivo do relatório de lucros da Microsoft, junto com uma teleconferência agendada para as 17h30, horário do leste.
Source: https://www.thestreet.com/investing/microsoft-second-quarter-fiscal-2023-earnings-live-blog