Saxo Bank recently came out with its cryptocurrency analysis discussing the sharp drop in the crypto space in the beginning of the week, as well as the big news out from the US treasury regarding the use of stablecoins. As per the article summary, for the first time, Bitcoin experienced a drop of $10,000 in under 48 hours. From being traded at approximately $41,000 on Sunday, Bitcoin fell to a low of $30,500 yesterday evening . according to TradingView. Rumours started to circulate shortly thereafter on what contributed to the drop, and it seemed to be a hefty sell-off by miners as well as others who were taking in profits from the recent surge. This sell-off contributed to panic to some extent across the whole cryptocurrency market.
At the same time Bitcoin volume at its all-time-high upon increased volatility. The sell-off resulted in all-time highs in the traded Bitcoin volume as it hit $11 billion based on the eight biggest cryptocurrency exchanges, beating the 2017 bull run. There has been a lot of talks about institutional interest in this circle. However, it also looks like more retail investors are finding their way to the space as the PayPal volume for cryptocurrencies also hit a new high yesterday of $242M.
In addition the analysis discussed how Bakkt will not be supporting XRP, making XRP's legal issues worse. In their explanation they state, " Yesterday, Intercontinental Exchange's subsidiary called Bakkt said that it will go public through a SPAC deal. Bakkt is planning to launch an app for cryptocurrency trading in March. That app will however not let clients trade XRP, the fourth biggest cryptocurrency measured on market capitalization. Without Bakkt having disclosed the reason behind this decision, it is most likely due to XRP's legal issues. At the end of December 2020, XRP was sued by the Securities and Exchange Commission in the US for assumingly having issued more than $1 billion in tokens without registering it as a security. As many cryptocurrency exchanges and fund managers are not legally allowed to handle securities, an avalanche of delisting's followed as Bitstamp, Coinbase, Binance.US and more exchanges delisted the cryptocurrency, contributing to a sharp price decline. Once again, it shows the power that the regulators have on the development of respective cryptocurrencies. A power, which should never be underestimated."
Finally Saxo Bank summary discussed how the US Treasury allows US banks to use public blockchains and USD stablecoins
The power of regulators can also contribute positively which was demonstrated last week in the stablecoin space. The Office of the Comptroller of the Currency under the US Treasury stated last week that US-based banks are allowed to use stablecoins and blockchain for settlements and payments. The CEO and co-founder of Circle, Jeremy Allaire, who issues the second-biggest stablecoin called USDC together with Coinbase, stated that this is a "huge win" for crypto and stablecoins as it paves the way for the use of stablecoins as a mainstream payment medium. Stablecoins experienced significant growth last year where the Tether supply grew from $4.1B to $21B while the USDC supply grew from around $520M to $4B at the end of the year.
Source: www.unlock-bc.com
Author: Source: Saxo Bank crypto analysis
Why Chainlink Coin Is Much More Than a Speculation Vehicle
After the remarkable runup in cryptocurrencies where seemingly every day that passed delivered some crazy record, the sector is getting its first real taste of a correction. While proponents are eagerly grabbing bitcoin (CCC:BTC-USD) at a relative discount, those on the sidelines have been eyeballing alternative cryptocurrencies (altcoins) like Chainlink (CCC:LINK-USD). While it doesn't quite have the cachet of BTC, Chainlink coin may be one of the surprising wagers of 2021.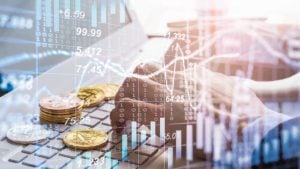 Currently, LINK has several psychological and administrative features that support a bullish thesis.
First and foremost, Chainlink coin is priced right. For newcomers to virtual currencies, the market has an extreme dichotomy. On one end of the scale, you have bitcoin and its five-digit price, followed by ethereum (CCC:ETH-USD) with its four-digit price. You have a few with three digits, then the rest are priced like penny stocks.
Though it's not how you should exclusively assess any investment, Chainlink coin seems meaty enough at around $14 to $15, ranked 10th in market capitalization. Yet it's also low enough that newcomers feel they are getting a solid deal.
While this might seem like a ridiculous talking point, remember, we're living in the Robinhood era. Like it or not, psychological dynamics play a big role in what young or inexperienced traders end up acquiring.
The Top 7 Marijuana Stocks to Buy for January
Another factor that shouldn't be ignored is that Chainlink coin is offered on Coinbase, one of the world's most popular crypto wallets/trading apps. Invariably, if you're an American investor looking to get your feet wet with virtual currencies, Coinbase is the place to go.
As well, many if not most cryptocurrencies tend to trade in sympathy with bitcoin. While that's not always the case, it's true enough that, at the right time, buying something like Chainlink coin is akin to buying bitcoin at $15.
Remember, at one point, bitcoin was so cheap that it required 10,000 units to buy two pizzas. That kind of dream payout keeps the blood flowing in the altcoin sector.
While probably the majority of blogs featuring Chainlink coin will discuss its profitability potential, that upside is backed by intriguing fundamentals. As virtual currencies begin to integrate more deeply in the mainstream, the usability of altcoins such as LINK may take precedence.
To understand why, let's back up for a moment.
Bitcoin today is considered a digital safe haven. When it first launched more than a decade ago, it was a proof of concept. Essentially, bitcoin and the underlying blockchain technology proved that you could create a digital currency of true economic value and trust without the need of a centralized (human) intermediary.
However, the programmer(s) behind bitcoin never envisioned that it would take off like it did.
Some of the flaws of the bitcoin architecture were exposed as more people engaged its blockchain network. As a result, alternative blockchain projects sprouted, each proclaiming to address a solution for specific problems, such as cheap, lightning-quick microtransactions.
From this synergy of innovation came ethereum, which forwarded the concept of the smart contract. Long story short, smart contracts enable the creation and execution of deals without involving third parties. Thus, expensive intermediaries (such as attorneys) could be phased out for certain transactions.
However, the practical limitation of ethereum-based projects is that many contractual events occur outside the blockchain, such as betting lines on a football game. To connect the blockchain with the real world requires a bridge of some sort, called an "oracle" in blockchain parlance. The underlying business of the Chainlink coin is exactly that: an oracle network that connects smart contracts with real-world data.
Now, this sounds like a lot of nerd talk. However, it has serious implications for burgeoning markets like online gambling. Once global economies normalize, the sheer volume of gaming participants could require robust artificial intelligence platforms. Blockchain and oracle networks could provide the fuel to support this innovation. This is why the smart money – including our own Matt McCall – have long been bullish on LINK.
Of course, the narrative above may take some time to play out. And let's be honest – the immediate reason why people are interested in Chainlink coin is its upside potential.
If you're on that boat, you should be aware that LINK has a strong correlation with bitcoin. When you average out the pricing on a quarterly basis, the two crypto assets share a nearly 83% correlation coefficient.
Basically, as one goes up, so does the other – but it applies in the other direction as well.
On a day-to-day basis, the correlation weakens to about 66.2%. Nevertheless, much of that is caused by the daily wildness of the crypto market. If you're interested in holding Chainlink coin for the long term, the 83% correlation is more reflective of its relationship with bitcoin.
Still, you saw what happened with BTC a few days ago. This is a market where you can gain tremendous wealth and lose it within a 24-hour cycle. And this magnitude is much more heightened with an altcoin like LINK. However, if you can handle the risk, there's much more to Chainlink than its speculative potential.
On the date of publication, Josh Enomoto held a long position in LINK, BTC, and ETH.
A former senior business analyst for Sony Electronics, Josh Enomoto has helped broker major contracts with Fortune Global 500 companies. Over the past several years, he has delivered unique, critical insights for the investment markets, as well as various other industries including legal, construction management, and healthcare.
Source: investorplace.com
Author: By
Josh Enomoto, InvestorPlace Contributor
SOS Ltd. Announces its Aspiring Crypto Mining Strategy and Plan
QINGDAO, China, Jan. 13, 2021 /PRNewswire/ — SOS Limited (NYSE: SOS) (the "Company" or "SOS") today announced its crypto mining plan. SOS plans to invest heavily in the crypto mining business to take advantage of the growing investors' realization of the values and potentials of the crypto assets.
Dr. Huazhong (Eric) Yan, Vice President of Operation who spearheads the Company's planned cryptocurrencies security and insurance operation will also be responsible for the crypto mining business. The Company plans to have him lead a team to come up with a detailed plan of setting up a series of cloud crypto mining sites in the regions where energy costs are much lower and clean energy resources much more, such as Sichuan, Gan su, Xinjiang, Yunnan, Inner Mongolia, etc. Initially, SOS anticipates focusing on the mining of the key mainstream cryptocurrencies, such as BTC, etc. If that venture develops as planned, we plan to expand mining further to the full coverage of all of mainstream cryptocurrencies. In addition, SOS also plans to provide a variety of cloud based crypto mining services, such as SOS self-mining, miner trusteeship, cryptocurrency-related DeFi, security and insurance services for cryptocurrencies, etc.
SOS Chairman Yandai Wang commented, "We expect that SOS's planned cloud based crypto mining and crypto currency security and insurance operation spearheaded by Dr. Yan, will become one of key growth drive of SOS."
About SOS Limited
SOS Limited, through its operating subsidiary, SOS Information Technology Co., Ltd. ("SOS") is a high-technology company providing a wide range of services to its corporate and individual members, including marketing data, technology and solutions for emergency rescue services. SOS transforms digital technology into data-driven operations through the research and development of big data, cloud computing, Internet of Things, blockchain and artificial intelligence.
We have created a SOS cloud emergency rescue service software as a service (SaaS) platform with three major product categories: basic cloud, cooperative cloud, and information. This system provides innovative marketing solutions to clients such as insurance companies, financial institutions, medical institutions, healthcare providers, auto manufacturers, security providers, senior living assistance providers, and other service providers in the emergency rescue services industry.
SOS has obtained a national high-tech enterprise certification and the title of "big data star enterprise," awarded by Gui'an New District Government. Staying on the forefront of digital technology innovation, the Company has registered 32 software copyrights and 2 patents. For more information, please visit: http://www.sosyun.com/
Forward-Looking Statements
Certain statements made herein are "forward-looking statements" within the meaning of the "safe harbor" provisions of the Private Securities Litigation Reform Act of 1995. Forward-looking statements may be identified by the use of words such as "anticipate," "believe," "expect," "estimate," "plan," "outlook," and "project" and other similar expressions that predict or indicate future events or trends or that are not statements of historical matters. Such forward-looking statements include timing of the proposed transaction; the business plans, objectives, expectations and intentions of the parties;, SOS's estimated and future results of operations, business strategies, competitive position, industry environment and potential growth opportunities market acceptance of our products; the ultimate impact of the current Coronavirus pandemic, or any other health epidemic, on our business, our research programs, healthcare systems or the global economy as a whole; our intellectual property; our reliance on third party organizations; our anticipated financial and operating results, including anticipated sources of revenues; our assumptions regarding the size of the available market, benefits of our product offering, product pricing, timing of product launches; management's expectation with respect to future acquisitions; statements regarding our goals, intentions, plans and expectations, including the introduction of new products and markets; and our cash needs and financing plans and etc. These forward-looking statements reflect the current analysis of existing information and are subject to various risks and uncertainties. As a result, caution must be exercised in relying on forward-looking statements. SOS may not realize its expectations, and its beliefs may not prove correct. Due to known and unknown risks, our actual results may differ materially from our expectations or projections. All forward-looking statements attributable to the Company or persons acting on its behalf are expressly qualified in their entirety by these factors. Other than as required under the securities laws, the Company does not assume a duty to update these forward-looking statements.
Additional information concerning these and other factors that may impact our expectations and projections can be found in our periodic filings with the SEC, including our Annual Report on Form 20-F for the fiscal year ended December 31, 2019. SOS's SEC filings are available publicly on the SEC's website at www.sec.gov. SOS disclaims any obligation to update the forward-looking statements, whether as a result of new information, future events or otherwise.
SOURCE SOS Limited
http://www.sosyun.com/
Source: www.prnewswire.com
Author: SOS Limited