Microsoft'un 2023'te kurumsal teknoloji harcamalarının nasıl şekillendiğine ilişkin açıklamaları, yazılım devinin Salı öğleden sonra bildirdiği gibi yakından ilgi görecek.
FactSet tarafından ankete katılan analistler arasında, Microsoft'un Aralık çeyreği (mali ikinci çeyrek) gelirini 52,99 milyar $ (yıllık %2,4 artış) ve EPS'yi 2,29 $ (%7,5 düşüş) bildirmesi konusunda fikir birliği var.
Microsoft, kazanç çağrısıyla ilgili raporlama bölümleri için üç aylık satış kılavuzunu paylaşıyor . Mart çeyreği için, şirketin gelir konsensüsü 52,42 milyar dolar (%6,2 artış) olarak gerçekleşti.
Real Money'nin teknoloji köşe yazarı Eric Jhonsa, Microsoft'un kazanç raporunun yanı sıra Doğu Saati ile 17:30'da planlanan bir konferans görüşmesiyle birlikte canlı blog yazacak.
Güncellemeler için lütfen tarayıcınızı yenileyin.
18:41 ET: Son soru sırasındaki bazı teknik sorunların ardından (büyük müşterilerde Azure rampaları ile ilgiliydi), Microsoft'un araması sonlandırıldı.
Hisseler şu anda mesai sonrası %0,7 düşüşle 240,25 $'a geriledi. Başlangıçta, Microsoft'un işletme merkezli işletmelerinin çoğu için oldukça iyi rakamlar bildirmesinin ardından daha yüksek sonradan kazanç ticareti yaptılar, ancak şirketin Aralık ayında iş trendlerinde yumuşama gördüğünü ve raporlama segmentlerini toplu olarak yönlendirdiğini açıklamasının ardından kazançlarını geri verdiler. FQ3 geliri 50,5 milyar $ – 51,5 milyar $, 52,42 milyar $'lık konsensüsün altında. Eksikliğin çoğu, zayıf PC talebi nedeniyle baskı altında kalmaya devam eden Daha Kişisel Bilgi İşlem segmentinden kaynaklanıyor.
Azure geliri, FQ2'de sabit para biriminde bir önceki yıla göre %38 arttı ve Microsoft, FQ3'te büyümede 4 ila 5 puanlık sıralı bir yavaşlama için rehberlik etti. Ticari rezervasyonlar bir önceki yıla göre %7 arttı ve Microsoft, zorlu rekabet koşullarında kabaca sabit FQ3 rezervasyon büyümesine rehberlik etti.
Bize katıldığınız için teşekkürler.
Düzeltme: Microsoft, sabit para birimi Azure gelir büyümesinin, tam çeyrek yerine 30'ların ortasında olduğu söylenen Aralık çeyreğinin sonundaki çıkış oranına göre 4 ila 5 puan yavaşlamasını bekliyor oranı %38'dir.
18:27 ET: Office 365 büyümesi hakkında bir soru: ARPU büyümesine göre lisans büyümesi ne kadarını yönlendiriyor?
Hood, Microsoft'un iyi ancak ılımlı koltuk büyümesi gördüğünü ve E5 planının benimsenmesi sayesinde ARPU büyümesinin güçlü kaldığını söylüyor.
Nadella, Viva ve Power gibi diğer "kullanıcı başına" yazılım platformlarının güçlü bir büyüme kaydettiğini ekliyor.
18:24 ET: Microsoft'un 23 mali yılındaki çift haneli gelir büyümesi için önceki yönergeleri hâlâ karşılayıp karşılayamayacağı hakkında bir soru.
Hood kılavuzu yinelemiyor. Microsoft'un PC pazarını gelişme işaretleri için izlemeye devam ettiğini söylüyor. Şirketin maliyetleri kısma çabalarının, üst düzey baskılar arasında faaliyet marjındaki düşüşleri sınırladığını da ekliyor.
18:19 ET: Nadella, çeşitli Microsoft ürünleri için kullanım/etkileşimin, daha yavaş anlaşma faaliyetleri arasında güçlü bir büyüme görmeye devam ettiğini iddia ediyor.
Hood, Microsoft'un genellikle ürün paketleri için hala iyi bir talep olduğunu, ancak bağımsız ürün satışları için daha fazla anlaşma baskısı olduğunu ekliyor.
18:17 ET: Yatırımcılar şirketin FQ3 rehberliğini sindirirken ve yorum talep ederken Microsoft artık düz AH'ye yakın.
18:15 ET: ABD BT harcama ortamı hakkında bir soru.
Nadella, harcama ortamı hakkındaki yorumlarının küresel harcamalarla ilgili olduğunu söylüyor. Microsoft , kısa vadede teknoloji harcamalarını "optimize etmek" için biraz dikkat ve çaba görse de, BT harcamalarının GSYİH'nın yüzdesi olarak büyümeye devam etmesini beklediğini yineliyor .
18:12 ET: İlk soru, OpenAI anlaşması ve bunun üst düzey etkisi hakkında.
Nadella, Microsoft'un yapay zekanın "bir sonraki büyük platform dalgası" olacağını düşündüğünü ve bunu çözümlerine entegre etmek istediğini iddia ediyor. Power platformu, GitHub vb. için mevcut AI tabanlı hizmetleri vurgular.
18:08 ET: Soru-Cevap oturumu başlıyor. Hisseler şimdi %1,9 AH arttı.
18:08 ET: İşletme giderlerinin FQ3'te yıllık %11-12 artması bekleniyor.
Regarding the second half of fiscal 2023, Hood says Microsoft expects decelerating revenue growth relative to the first half. Opex growth is expected to drop to the low single digits in the June quarter. Higher energy costs are now expected to be a smaller headwind than previously expected.
6:05 PM ET: FQ3 segment guidance:
Productivity & Business Processes – $16.9B-17.2B vs. a $16.94B consensus
Intelligent Cloud – $21.7B-$22B vs. a $22.19B consensus
More Personal Computing – $11.9B-$12.3B vs. a $13.43B consensus
Constant-currency Azure revenue growth is expected to decelerate by 4 to 5 points Q/Q. Windows OEM revenue is expected to be down by a mid-30s percentage.
Shares are up 2.9% AH.
6:00 PM ET: Forex is expected lower revenue growth by 3 points and opex growth by 2 points in FQ3 (less than in FQ2).
5:58 PM ET: The Xandr acquisition provided a 6-point boost to search and news ad revenue, which was up 10% in dollars and 15% in CC.
5:57 PM ET: Hood says Devices revenue (down 39% Y/Y) was hurt by "execution challenges" related to new product launches.
5:55 PM ET: Hood says Microsoft exited FQ2 with constant-currency Azure growth in the mid-30s (compares with 38% growth for the full quarter).
5:53 PM ET: Hood is now going over Microsoft's FQ2 segment performance. Notes Office commercial sales continue benefiting from seat growth among SMBs and frontline workers, and from greater enterprise adoption of costlier E5 plans.
5:50 PM ET: Hood recaps Microsoft's FQ2 performance. Notes there was some weakening of business in December, with moderating Azure consumption.
Microsoft has trimmed its AH gains a bit on those remarks: Shares are now up 3.3% AH.
5:48 PM ET: Amy Hood is now talking.
5:48 PM ET: Gaming monthly active users topped 120M.
5:46 PM ET: LinkedIn is said to now have over 900M registered users. Users for the Start feed are said to be up over 30% Y/Y.
5:44 PM ET: Nadella says (amid weak PC demand) time spent per Windows PC remains up 10% relative to pre-pandemic levels. Also says the Azure Virtual Desktop service is seeing strong growth.
5:42 PM ET: Nadella says Teams now has more than 280M monthly active users, while asserting the platform is taking share across every category it participates in. Teams Phone is said to have added more than 5M PSTN seats over the last 12 months.
5:39 PM ET: Power Automate customers are up over 50% Y/Y.
5:38 PM ET: GitHub is said to now be home to more than 100M developers. More than 1M people have used the GitHub Copilot (AI-based code generation) service.
5:37 PM ET: Nadella asserts (following the OpenAI deal) Microsoft has the most powerful cloud-based supercomputer infrastructure for AI workloads. Says Azure ML revenue has risen over 100% Y/Y for 5 quarters in a row.
5:35 PM ET: Nadella says twice as many CPU cores are run on Azure as were run two years ago, and that the Azure Arc hybrid cloud service now has 12K customers (up 2x Y/Y).
5:34 PM ET: Nadella says firms are now "optimizing" their spend after accelerating it during the pandemic, and are exercising caution in an uncertain environment.
5:33 PM ET: Satya Nadella is talking.
5:31 PM ET: The call is starting. Microsoft is going over its safe-harbor statement.
5:28 PM ET: Microsoft's call typically features prepared remarks from CEO Satya Nadella and CFO Amy Hood, after which the execs take questions from analysts. Guidance is shared by Hood towards the end of her prepared remarks.
5:26 PM ET: Hi, I'm back to cover Microsoft's call. Here's the webcast link, for those wanting to tune in.
4:53 PM ET: I'm taking a short break, but will be back to cover Microsoft's earnings call, which is set to kick off at 5:30 PM ET and will include the sharing of the company's quarterly sales guidance.
Shares are up 4.1% AH to $251.90 after Microsoft posted mixed FQ2 results (revenue slightly missed, EPS slightly beat), while reporting 7% commercial bookings growth and 29% commercial RPO (contract backlog) growth.
4:48 PM ET: One other bright spot: Dynamics 365 business app revenue was up 21% in dollars and 29% in CC, as the platform continues taking share among SMBs and midmarket firms. Total Dynamics revenue was up 13% in dollars and 20% in CC.
4:41 PM ET: The Office 365 installed base keeps steadily growing. Office 365 commercial seats were up 12% Y/Y, and Microsoft 365 consumer subs were up 1.9M Q/Q and 6.8M Y/Y to 63.2M.
4:39 PM ET: Free cash flow was down 43% Y/Y to $4.9B, with Microsoft noting it would've been down 16% if not for a one-time tax payment. The company ended FQ2 with $99.5B in cash/equivalents and $48.1B in debt.
4:35 PM ET: $4.6B was spent on stock buybacks in FQ2, even with FQ1.
4:31 PM ET: As a reminder, Microsoft's quarterly sales guide, which tends to have a big impact on how its stock trades the next day, isn't in the earnings report. It'll be shared on the call.
4:29 PM ET: The segment breakdown helps explain why Microsoft is higher post-earnings in spite of a slight revenue miss: The miss was caused by More Personal Computing, which is dominated by PC and consumer-centric businesses that were known to be weak. The two segments dominated by sales of software and cloud services to businesses beat estimates.
4:26 PM ET: FQ2 revenue by business segment:
Productivity & Business Processes (Office, Dynamics, LinkedIn) – $17B, +7% Y/Y and above a $16.79B consensus
Intelligent Cloud (Azure, server software) – $21.51B, +18% and above a $21.43B consensus
More Personal Computing (Windows, Xbox, Surface, ads) – $14.24B, -19% and below a $14.76B consensus.
4:23 PM ET: $6.8B was spent on capex in FQ2, compared with $6.6B in FQ1 and $7.4B a year earlier.
4:21 PM ET: Weighing on EPS some: While revenue grew 2%, Microsoft's operating expenses were up 19% Y/Y on a GAAP basis to $14.9B, and 11% excluding one-time charges.
With Microsoft having slowed down hiring and just announced layoffs, opex growth will likely slow in the coming quarters.
4:16 PM ET: Dollar-based and CC revenue growth for various Microsoft businesses. As the numbers show, forex was a big headwind across the board, and big declines in Windows OEM, Devices (Surface, Xbox, etc.) and to a lesser extent Xbox content/services revenue also weighed on the top line.
On the other hand, Azure, Dynamics, LinkedIn, search/news ads, and server products and cloud services recorded double-digit growth, and Office Commercial grew 7%.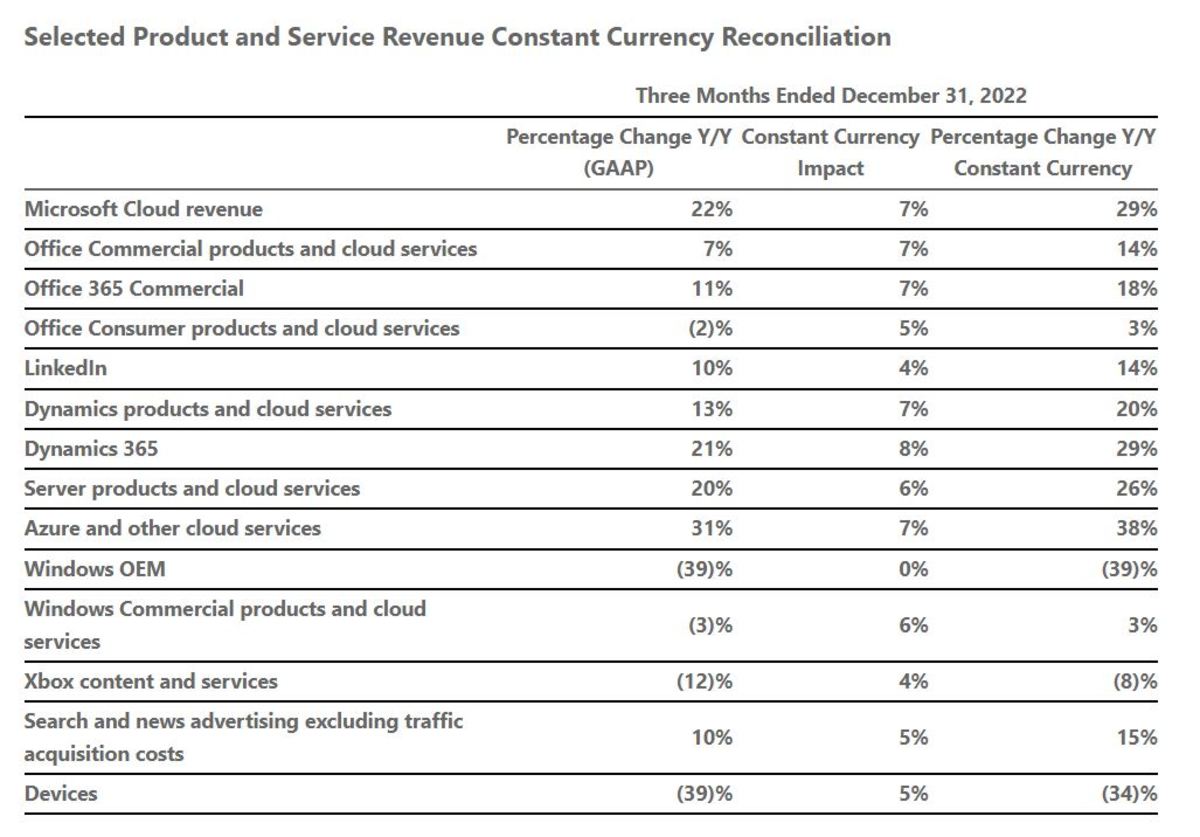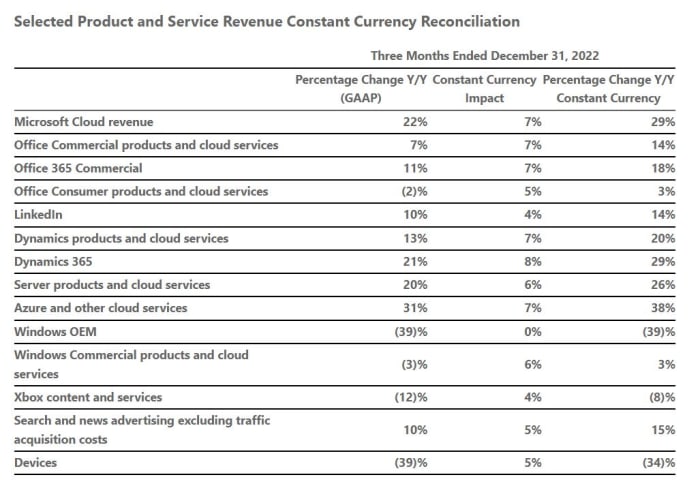 4:09 PM ET: Shares are holding onto their gains: They're now up 4.9% AH to $254.00. Here's the FQ2 report, for those wanting to take a look.
4:08 PM ET: Commercial bookings were up 7% Y/Y in dollars and 4% in constant currency. With bookings up 32% in dollars and 37% in CC a year ago, Microsoft was facing a tough annual comp.
Notably, Microsoft's commercial RPO (contract backlog) was up 29% in dollars and 26% in CC to $189B.
4:05 PM ET: Revenue rose 2% Y/Y in dollars and 7% in constant currency.
Azure revenue rose 31% in dollars and 38% in CC, slightly topping CC guidance of 37%.
4:04 PM ET: GAAP EPS, which bakes in $0.12/share of "severance, hardware-related impairment, and lease consolidation costs," was $2.20.
4:02 PM ET: Results are out. FQ2 revenue of $52.75B slightly misses a $52.99B consensus. Adjusted EPS of $2.32 beats a $2.29 consensus.
Shares are up 4.1% after-hours.
4:00 PM ET: Microsoft's stock closed down 0.2% to $242.04. The FQ2 report should be out shortly.
3:57 PM ET: As usual, Microsoft's Azure revenue growth will be closely watched. In October, Microsoft guided for constant-currency Azure growth (42% in FQ1) to drop about 5 points sequentially.
3:51 PM ET: The FactSet consensus is for FQ2 revenue of $52.99B and EPS of $2.29.
Şu anda 2023 BT bütçeleri belirlenirken, ticari rezervasyonlardaki artış ve kurumsal harcama eğilimleriyle ilgili genel yorumların yanı sıra muhtemelen Microsoft'un gelir kılavuzuna (FQ3 gelir mutabakatı 52,42 Milyar Dolar) büyük ilgi gösterilecek.
15:47 ET: Merhaba, ben Eric Jhonsa. Microsoft'un kazanç raporunu ve aramasını canlı olarak bloglayacağım.
Real Money'nin teknoloji köşe yazarı Eric Jhonsa, Microsoft'un kazanç raporunun yanı sıra Doğu Saati ile 17:30'da planlanan bir konferans görüşmesiyle birlikte canlı blog yazacak.
Source: https://www.thestreet.com/investing/microsoft-second-quarter-fiscal-2023-earnings-live-blog