随着软件巨头周二下午的报告,微软披露的 2023 年企业技术支出将如何形成将受到密切关注。
FactSet 调查的分析师普遍认为,微软报告 12 月季度(第二财季)收入为 529.9 亿美元(每年增长 2.4%),每股收益为 2.29 美元(下降 7.5%)。
微软在其财报电话会议上分享了其报告部门的季度销售指导。对于 3 月季度,该公司的收入共识为 524.2 亿美元(增长 6.2%)。
Real Money 的技术专栏作家 Eric Jhonsa 将在博客上实时发布微软的收益报告,并在东部时间下午 5:30 召开电话会议。
请刷新您的浏览器以获取更新。
美国东部时间下午 6 点 41 分:在最后一个问题中出现一些技术问题(这是关于大客户的 Azure 坡道),微软的电话会议结束了。
盘后股价目前下跌 0.7%至 240.25 美元。在微软报告其许多以企业为中心的业务的相当不错的数字后,他们最初交易收益较高,但在该公司在其电话会议上披露其看到 12 月份的业务趋势疲软并指导其报告部门集体FQ3 后的收入为 $50.5B-$51.5B,低于 $52.42B 的共识。大部分短缺源于更个人化的计算部门,该部门仍然受到个人电脑需求疲软的压力。
第二季度 Azure 收入按固定汇率计算同比增长 38%,微软指导第三季度增长连续放缓 4 到 5 个百分点。商业预订同比增长 7%,微软指导 FQ3 预订增长在艰难的竞争中大致持平。
感谢您加入我们。
更正:微软预计 Azure 的固定货币收入增长将相对于 12 月季度末的退出率放缓 4 到 5 个百分点,据说是在 30 年代中期,而不是整个季度38%的比率。
美国东部时间下午 6:27:关于 Office 365 增长的一个问题:相对于 ARPU 增长,席位增长推动了多少?
胡德表示,微软的席位增长不错但正在放缓,而且由于 E5 计划的采用,ARPU 增长依然强劲。
纳德拉补充说,Viva 和 Power 等其他"按用户"计算的软件平台增长强劲。
美国东部时间下午 6:24:关于微软是否仍能达到 23 财年两位数收入增长的先前指导的问题。
胡德没有重申指南。表示微软继续关注 PC 市场的改善迹象。补充说,公司削减成本的努力正在限制营业利润率在顶线压力下的下降。
美国东部时间下午 6:19:纳德拉声称,在交易活动放缓的情况下,各种微软产品的使用/参与度继续强劲增长。
胡德补充说,微软通常对产品套件的需求仍然不错,但对独立产品销售的交易压力更大。
美国东部时间下午 6:17:随着投资者消化该公司的 FQ3 指引和需求评论,微软现在接近持平 AH。
美国东部时间下午 6:15:关于美国 IT 支出环境的问题。
纳德拉表示,他对支出环境的评论是关于全球支出的。重申微软仍预计 IT 支出占GDP的百分比将继续增长,即使它看到一些谨慎和努力在短期内"优化"技术支出。
美国东部时间下午 6:12:第一个问题是关于 OpenAI 交易及其对收入的影响。
纳德拉断言,微软认为人工智能将是"下一个大平台浪潮",并正在寻求将其集成到其解决方案中。重点介绍当前基于 AI 的 Power 平台、GitHub 等服务。
美国东部时间下午 6:08:问答环节开始。股价现在上涨 1.9% AH。
美国东部时间下午 6:08:预计第三季度运营费用同比增长 11-12%。
Regarding the second half of fiscal 2023, Hood says Microsoft expects decelerating revenue growth relative to the first half. Opex growth is expected to drop to the low single digits in the June quarter. Higher energy costs are now expected to be a smaller headwind than previously expected.
6:05 PM ET: FQ3 segment guidance:
Productivity & Business Processes – $16.9B-17.2B vs. a $16.94B consensus
Intelligent Cloud – $21.7B-$22B vs. a $22.19B consensus
More Personal Computing – $11.9B-$12.3B vs. a $13.43B consensus
Constant-currency Azure revenue growth is expected to decelerate by 4 to 5 points Q/Q. Windows OEM revenue is expected to be down by a mid-30s percentage.
Shares are up 2.9% AH.
6:00 PM ET: Forex is expected lower revenue growth by 3 points and opex growth by 2 points in FQ3 (less than in FQ2).
5:58 PM ET: The Xandr acquisition provided a 6-point boost to search and news ad revenue, which was up 10% in dollars and 15% in CC.
5:57 PM ET: Hood says Devices revenue (down 39% Y/Y) was hurt by "execution challenges" related to new product launches.
5:55 PM ET: Hood says Microsoft exited FQ2 with constant-currency Azure growth in the mid-30s (compares with 38% growth for the full quarter).
5:53 PM ET: Hood is now going over Microsoft's FQ2 segment performance. Notes Office commercial sales continue benefiting from seat growth among SMBs and frontline workers, and from greater enterprise adoption of costlier E5 plans.
5:50 PM ET: Hood recaps Microsoft's FQ2 performance. Notes there was some weakening of business in December, with moderating Azure consumption.
Microsoft has trimmed its AH gains a bit on those remarks: Shares are now up 3.3% AH.
5:48 PM ET: Amy Hood is now talking.
5:48 PM ET: Gaming monthly active users topped 120M.
5:46 PM ET: LinkedIn is said to now have over 900M registered users. Users for the Start feed are said to be up over 30% Y/Y.
5:44 PM ET: Nadella says (amid weak PC demand) time spent per Windows PC remains up 10% relative to pre-pandemic levels. Also says the Azure Virtual Desktop service is seeing strong growth.
5:42 PM ET: Nadella says Teams now has more than 280M monthly active users, while asserting the platform is taking share across every category it participates in. Teams Phone is said to have added more than 5M PSTN seats over the last 12 months.
5:39 PM ET: Power Automate customers are up over 50% Y/Y.
5:38 PM ET: GitHub is said to now be home to more than 100M developers. More than 1M people have used the GitHub Copilot (AI-based code generation) service.
5:37 PM ET: Nadella asserts (following the OpenAI deal) Microsoft has the most powerful cloud-based supercomputer infrastructure for AI workloads. Says Azure ML revenue has risen over 100% Y/Y for 5 quarters in a row.
5:35 PM ET: Nadella says twice as many CPU cores are run on Azure as were run two years ago, and that the Azure Arc hybrid cloud service now has 12K customers (up 2x Y/Y).
5:34 PM ET: Nadella says firms are now "optimizing" their spend after accelerating it during the pandemic, and are exercising caution in an uncertain environment.
5:33 PM ET: Satya Nadella is talking.
5:31 PM ET: The call is starting. Microsoft is going over its safe-harbor statement.
5:28 PM ET: Microsoft's call typically features prepared remarks from CEO Satya Nadella and CFO Amy Hood, after which the execs take questions from analysts. Guidance is shared by Hood towards the end of her prepared remarks.
5:26 PM ET: Hi, I'm back to cover Microsoft's call. Here's the webcast link, for those wanting to tune in.
4:53 PM ET: I'm taking a short break, but will be back to cover Microsoft's earnings call, which is set to kick off at 5:30 PM ET and will include the sharing of the company's quarterly sales guidance.
Shares are up 4.1% AH to $251.90 after Microsoft posted mixed FQ2 results (revenue slightly missed, EPS slightly beat), while reporting 7% commercial bookings growth and 29% commercial RPO (contract backlog) growth.
4:48 PM ET: One other bright spot: Dynamics 365 business app revenue was up 21% in dollars and 29% in CC, as the platform continues taking share among SMBs and midmarket firms. Total Dynamics revenue was up 13% in dollars and 20% in CC.
4:41 PM ET: The Office 365 installed base keeps steadily growing. Office 365 commercial seats were up 12% Y/Y, and Microsoft 365 consumer subs were up 1.9M Q/Q and 6.8M Y/Y to 63.2M.
4:39 PM ET: Free cash flow was down 43% Y/Y to $4.9B, with Microsoft noting it would've been down 16% if not for a one-time tax payment. The company ended FQ2 with $99.5B in cash/equivalents and $48.1B in debt.
4:35 PM ET: $4.6B was spent on stock buybacks in FQ2, even with FQ1.
4:31 PM ET: As a reminder, Microsoft's quarterly sales guide, which tends to have a big impact on how its stock trades the next day, isn't in the earnings report. It'll be shared on the call.
4:29 PM ET: The segment breakdown helps explain why Microsoft is higher post-earnings in spite of a slight revenue miss: The miss was caused by More Personal Computing, which is dominated by PC and consumer-centric businesses that were known to be weak. The two segments dominated by sales of software and cloud services to businesses beat estimates.
4:26 PM ET: FQ2 revenue by business segment:
Productivity & Business Processes (Office, Dynamics, LinkedIn) – $17B, +7% Y/Y and above a $16.79B consensus
Intelligent Cloud (Azure, server software) – $21.51B, +18% and above a $21.43B consensus
More Personal Computing (Windows, Xbox, Surface, ads) – $14.24B, -19% and below a $14.76B consensus.
4:23 PM ET: $6.8B was spent on capex in FQ2, compared with $6.6B in FQ1 and $7.4B a year earlier.
4:21 PM ET: Weighing on EPS some: While revenue grew 2%, Microsoft's operating expenses were up 19% Y/Y on a GAAP basis to $14.9B, and 11% excluding one-time charges.
With Microsoft having slowed down hiring and just announced layoffs, opex growth will likely slow in the coming quarters.
4:16 PM ET: Dollar-based and CC revenue growth for various Microsoft businesses. As the numbers show, forex was a big headwind across the board, and big declines in Windows OEM, Devices (Surface, Xbox, etc.) and to a lesser extent Xbox content/services revenue also weighed on the top line.
On the other hand, Azure, Dynamics, LinkedIn, search/news ads, and server products and cloud services recorded double-digit growth, and Office Commercial grew 7%.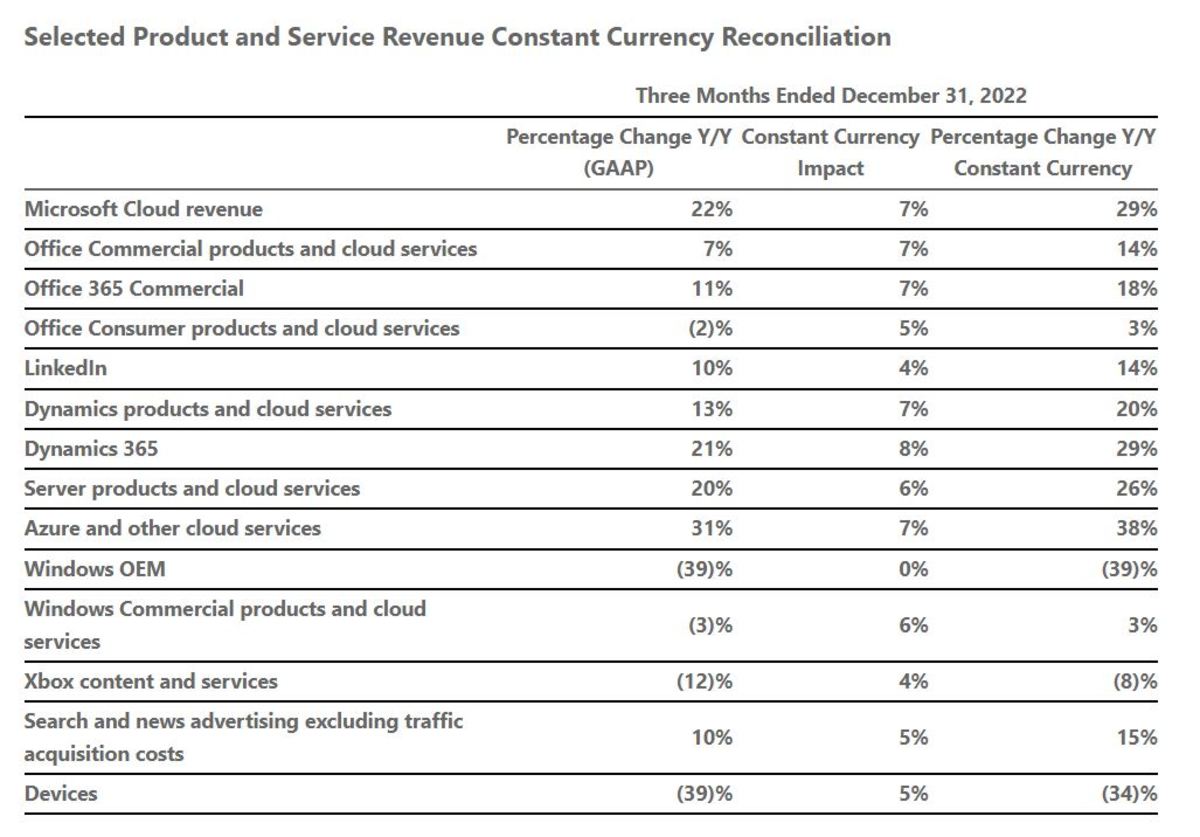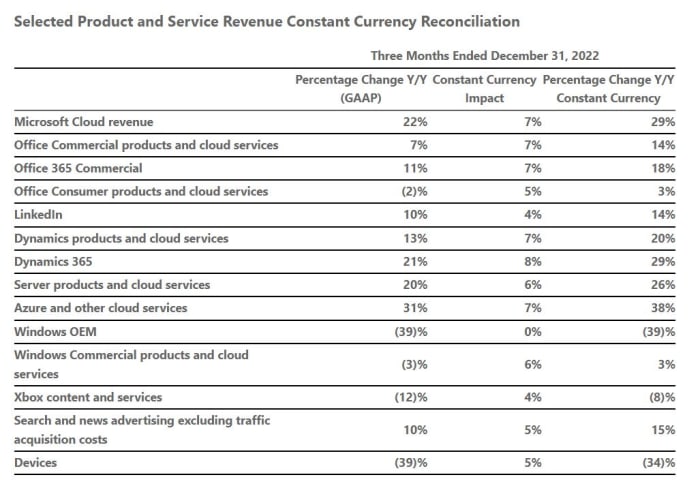 4:09 PM ET: Shares are holding onto their gains: They're now up 4.9% AH to $254.00. Here's the FQ2 report, for those wanting to take a look.
4:08 PM ET: Commercial bookings were up 7% Y/Y in dollars and 4% in constant currency. With bookings up 32% in dollars and 37% in CC a year ago, Microsoft was facing a tough annual comp.
Notably, Microsoft's commercial RPO (contract backlog) was up 29% in dollars and 26% in CC to $189B.
4:05 PM ET: Revenue rose 2% Y/Y in dollars and 7% in constant currency.
Azure revenue rose 31% in dollars and 38% in CC, slightly topping CC guidance of 37%.
4:04 PM ET: GAAP EPS, which bakes in $0.12/share of "severance, hardware-related impairment, and lease consolidation costs," was $2.20.
4:02 PM ET: Results are out. FQ2 revenue of $52.75B slightly misses a $52.99B consensus. Adjusted EPS of $2.32 beats a $2.29 consensus.
Shares are up 4.1% after-hours.
4:00 PM ET: Microsoft's stock closed down 0.2% to $242.04. The FQ2 report should be out shortly.
3:57 PM ET: As usual, Microsoft's Azure revenue growth will be closely watched. In October, Microsoft guided for constant-currency Azure growth (42% in FQ1) to drop about 5 points sequentially.
3:51 PM ET: The FactSet consensus is for FQ2 revenue of $52.99B and EPS of $2.29.
随着 2023 年 IT 预算的确定,微软的收入指南(FQ3 收入共识为 $52.42B)、商业预订增长和对企业支出趋势的一般评论可能会受到很多关注。
美国东部时间下午 3:47:嗨,我是 Eric Jhonsa。我将在博客上实时发布微软的收益报告和电话会议。
Real Money 的技术专栏作家 Eric Jhonsa 将在博客上实时发布微软的收益报告,并在东部时间下午 5:30 召开电话会议。
Source: https://www.thestreet.com/investing/microsoft-second-quarter-fiscal-2023-earnings-live-blog